REDCON1 TOTAL WAR RTD (355ml)
$5.95
Description
Redcon1 Total War RTD
If you loved Total War before get ready to fall in love all over again! The new Redcon1 Total War RTD is the on-the-go version of Total War. We truly believe this is the only fully dosed RTD pre workout on the market! Total War RTD will deliver all of the same energy, focus, pump and performance benefits as the original powder, but comes in a more convenient and great tasting clear liquid. Now in terms of ingredients, we have packed every feature and dose from the regular Total War powder into the Total War RTD, except for two ingredients. The two missing from the list are Naringin and BioPerine but everything else still in the mix.
Benefits of Redcon1 Total War RTD:
Pump the weights harder and longer for better gains, the combination of active ingredients will provide you with the pump and extra strength to get more out of your gym sessions
Increase your focus when you are working out, so you can give it all when you are at the gym.
Improve your performance, this ready-to-drink pre-workout will give you energy when you're at the gym, so no sluggish session.
Having the convenience of a ready to drink pre-workout will save you time, just drink it and you are ready to go. It is also a great way to stop spilling pre-workout powder in your car or gym bag. Total War RTD will get you ready to hit the gym for the best experience you'll ever feel.
Each bottle of Total War 355ml has:
6g of citrulline malate to enhance strength, power and intensity
3.2g of beta-alanine, which helps with endurance when you are working out
300mg of caffeine to stay focus and energised through the session
1g of agmatine sulfate which helps to improve muscle pump and energy
This ready to drink pre-workout is packed with a combination of stimulants to get you ready and pumped for your workout. Don't waste time trying to mix your pre-workout powder, get Total War RTD by Redcon1.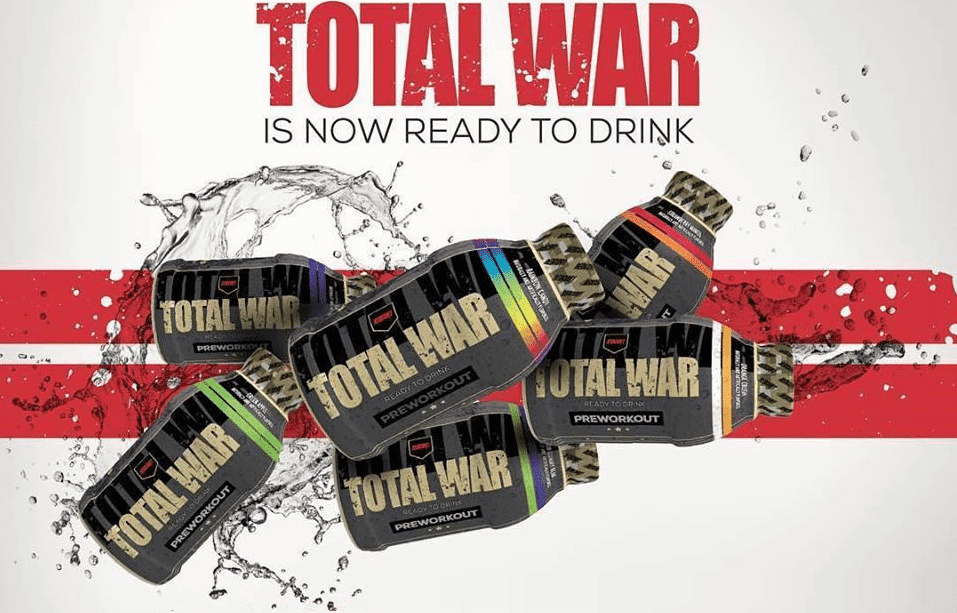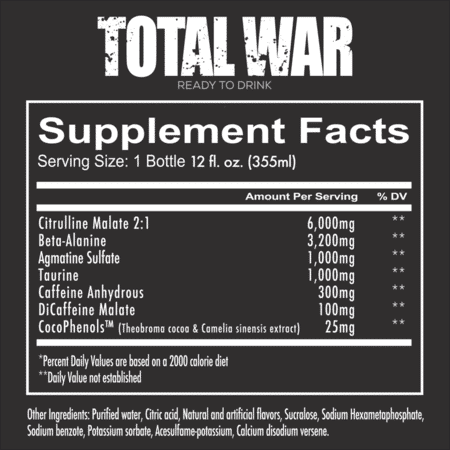 Recommended Use:
Always begin use with half (1/2) of a bottle of Redline to assess tolerance. Never exceed more than one full bottle daily.
Warnings:
Do not use this product if you are pregnant, nursing, or have a medical condition. This product contains 300 mg of caffein which is less than 3 cups of coffee. Limit your total caffein intake to 400 mg or less per day. Intended for use by healthy individuals only. Not recommended for use by individuals under 10 years of age.
Additional information
| | |
| --- | --- |
| Flavour | Blue Raspberry, Green Apple |