RONNIE COLEMAN AMINO TONE (1305g)
$109.95
Description
Ronnie Coleman Amino Tone 1305g
Ronnie Coleman Amino Tone 1305g Description from Ronnie Coleman When you train you DEPLETE glycogen. Training can also use up VALUABLE muscle protein. Sipping on AMINO ACIDS during your workout can help PREVENT muscle protein breakdown & provide you with the FUEL you need to finish your workout.
Weight Management
Ronnie Coleman Amino Tone 1305g is the first of its kind amino acid HYBRID containing a STIM-FREE fat loss support complex. Key ingredients like RASPBERRY KETONES & COLEUS FORSKOLIN will help your body more efficiently metabolize fat without stimulants allowing it to be taken at ANY TIME.
Hydration
Staying hydrated during a workout is crucial for just about every FUNCTION that the body is performing including MUSCLE contractions & FAT mobilization. AMINO-TONE has a comprehensive HYDRATION complex to keep you performing at your PEAK.
Recovery
The three BCAA's make up a MASSIVE chunk of the aminos present in muscle tissue. AMINO-TONE carries the clinically validated 2:1:1 ratio of L-LEUCINE, L-ISOLEUCINE, & L-VALINE to support muscle protein SYNTHESIS helping you recover FASTER.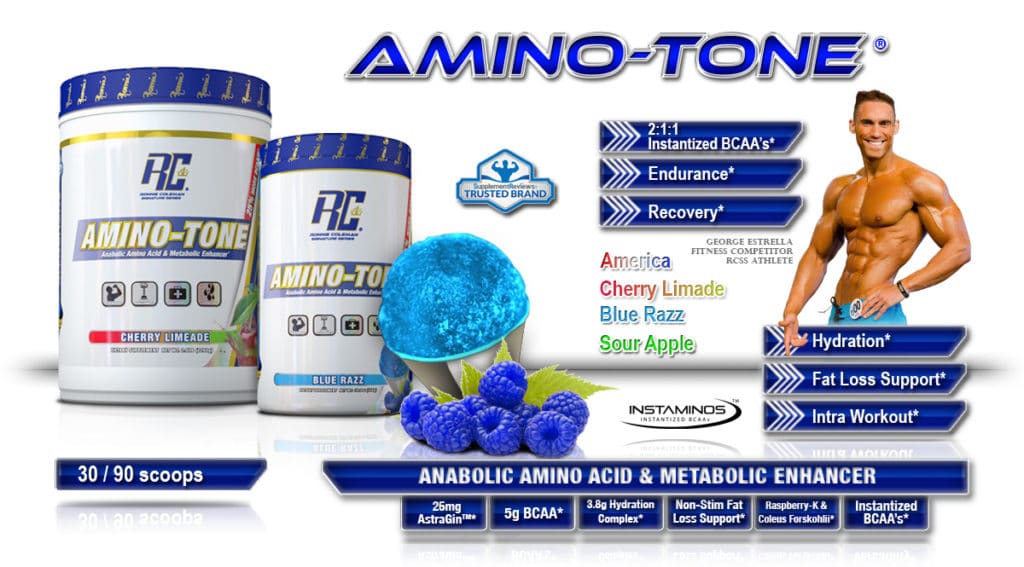 Mission Statement -"I've been around the health and fitness industry for a long time.  Now I have an opportunity to give back to the industry and fans that gave me so much.  Our goal at Ronnie Coleman Signature Series™ is to provide the global community of fitness enthusiasts with trustworthy products, reliable information, motivation as well as some humor and fun In order to help them achieve their fitness goals and become the best version of themselves. We are more than just supplements… we are a lifestyle."
Company Background -Ronnie Coleman Signature Series® is owned and operated by 8 time Mr. Olympia champion Ronnie Coleman. We are not an extension of nor are we leveraged by an already established brand or manufacturer. Our team is comprised of industry veterans who embrace the health and fitness lifestyle on a daily basis allowing us to better understand our customer's needs. We built this company from the ground up through grass roots marketing efforts including a grueling travel schedule for Ronnie himself. This type of unique commitment to his fans has afforded us the opportunity to have a rare and intimate relationship with our customers all over the globe. We embody this commitment in our products by using only the most effective, proven and safe ingredients on the market as well as striving to be at the forefront of new product innovation.
Supplement Facts
Serving Size: 14.5 grams
Servings Per Container: 90
Ingredient Amount % % Daily Value****
Calories 5
Total Fat 0g
Total Carbohydrate 1g
Sugar 0g
Sodium (as Citrate) 44mg
Potassium (as Phosphate) 237.6mg
Thiamin 1.5mg
Riboflvin (vitamin B-2) 1.7 mg
Niacin (as Vitamin B-3) 20 mg
Vitamin B-12 (as Cyanocobalamin) 6mcg
Instantized BCAA (as InstAminos) 2:1:1 Ratio 5000mcg †
-L-Leucine 2500mg -L-Isoleucine 1250mg -L-Valine 1250mg
INTRA-Training Performance & Hydration Complex 3785mg †
-L-Taurine, Potassium Phosphate, Sodium Citrate, Magnesium Phosphate -HICA (Alpha-Hydroxy-Leucine Calcium Salt)
STIM-FREE Fat Loss Support Complex 3180mg †
-L-Alanine, Raspberry Ketones, Choline Bitartrate, Coleus Forskohlii & Inositol
AstraGin (Astragalus Membranaceus & Panax Notoginseng) 25mg †
** Percent Daily Value is based on a 2000 calorie diet. Your daily values may be higher or lower depending on your calorie needs.
† Daily Value not established.
Manufactured on equipment which processes products containing milk, egg, soybeans, shellfish, wheat, and tree nuts.
Other Ingredients: Citric Acid, Natural & Artificial Flavors, Malic Acid, Sucralose, Maltodextrin, Acesulfame Potassium FD&C Yellow #5, FD&C Blue #1
Manufacturer's Directions
As a dietary supplement, mix 1 scoop of AMINO-TONE with 8-12oz of cold water. On training days consume during workout. On non-training days consume throughout the day for added recovery and metabolism support. Slight foaming may occur when mixed with very cold water.
Manufacturer's Disclaimer
Prior to using AMINO-TONE consult a licensed physician if you are unaware of your current health condition or have any pre-existing medical conditions, if you are taking any MAO inhibitor or any other medication. Do not use if you are pregnant, nursing or contemplating pregnancy. AMINO-TONE should be stored in a cool and dry place away from direct sunlight. Finally, discontinue use and consult your doctor if any adverse reaction occurs. Store in a cool, dry place. Protect from heat, direct sunlight and moisture.