RONNIE COLEMAN AMINO-TONE + EAA (540g)
$49.95
Description
Ronnie Coleman Amino Tone + EAA
Ronnie Coleman Amino Tone + EAA  is a versatile amino acid supplement that contains BCAA's, Essential Amino Acids, Hydration Complex and Stimulant Free Fat Loss Support Complex. There are three Branched Chain Amino Acids™ Leucine, Iso-Leucine & Valine. These BCAA™s support muscle protein synthesis, reduce muscle breakdown during exercise and improve exercise performance. Instantized means that it mixes and absorbs with ease.*
Hydration Complex
Potassium Chloride, Sodium Citrate & Magnesium Citrate are all common electrolytes. Electrolytes are minerals in your blood and other body fluids that carry an electric charge and also affect the amount of water in your body. When you sweat you lose electrolytes and must replace them or risk dehydration.
Contains 14g of aminos. 10G of EAAs
30 delicious easy to mix servings per container
Leucine, Iso-Leucine & Valine
Stim Free Fat Loss Support Complex
**These statements have not been evaluated by the Therapeutic Goods Administration. This product is not intended to diagnose, treat, cure or prevent any disease. Please consult a qualified professional before undertaking any health, fitness or dietary program.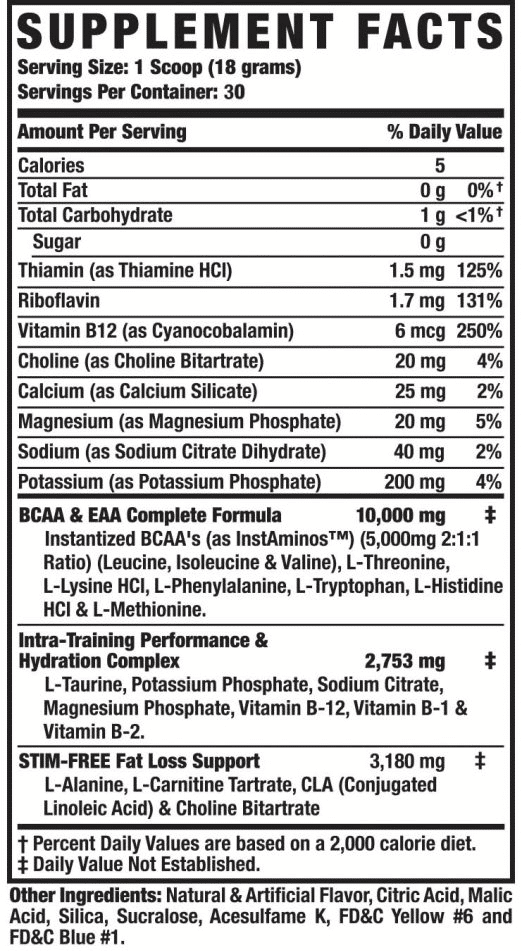 Directions:
As a dietary supplement, mix 1 scoop of AMINO-TONE+EAA™ with 8-12oz of cold water. For stronger flavour, use less water. Slight foaming may occur when mixed with very cold water. This is normal and will dissipate after a few minutes. Use in conjunction with a proper diet and exercise regimen to maximize results.
Additional information
| | |
| --- | --- |
| Flavour | Blue Raspberry, Cherry Limeade, Sour Apple |