RONNIE COLEMAN HMB XS (200 Capsules)
$44.95
Description
Ronnie Coleman HMB XS
Ronnie Coleman HMB XS (beta-Hydroxy beta-Methylbutyrate) is a naturally occurring metabolite of the branched-chain amino acid leucine.
HMB has been shown to speed strength and muscle mass gains in strength athletes, and improve endurance performance in cyclists and runners.*
Beta-hydroxy beta-methylbutyrate (HMB) is an important metabolite of the essential branched chain amino acid (BCAA) L-Leucine. Human and animal studies suggest protein breakdown and support significant increases in muscle strength and size when combined with intense resistance training..
Increase Strength & Endurance
Faster Recovery
Increased Muscle-Building
1000 mg of HMB per capsule
100 servings
Muscle support
Supports the general protein synthesis
**These statements have not been evaluated by the Therapeutic Goods Administration. This product is not intended to diagnose, treat, cure or prevent any disease. Please consult a qualified professional before undertaking any health, fitness or dietary program.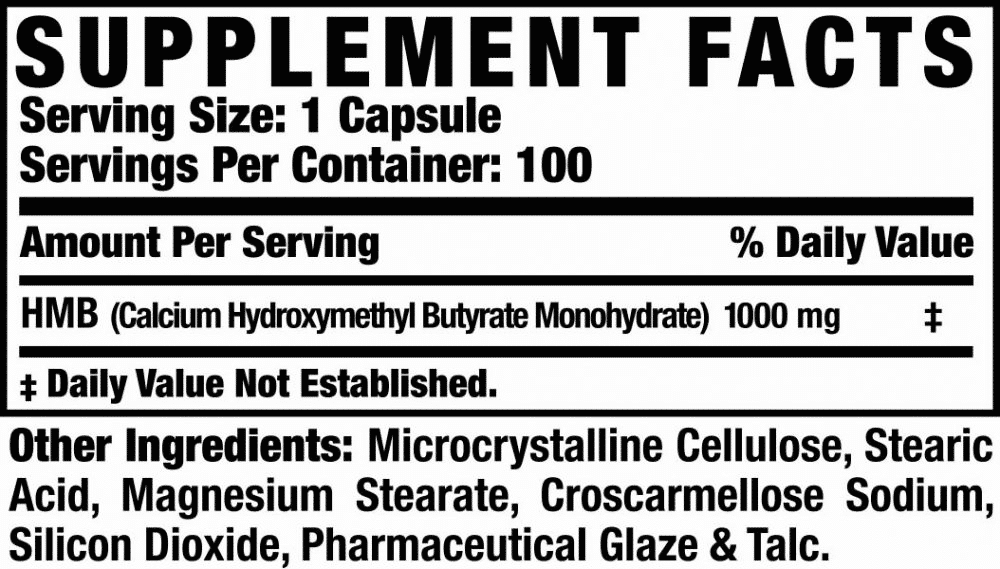 Directions:
As a dietary supplement, take one capsule 3 times daily, preferably with a protein rich meal. This product should be used in conjunction with a proper exercise and nutrition regimen.