RONNIE COLEMAN KING MASS XL (6.75kg)
$144.95
Description
Ronnie Coleman King Mass XL
Making the scale go up is all about taking in more CALORIES than you burn but it's also important to get the RIGHT kind of calories. Ronnie Coleman King Mass XL hits you with 1000 GROWTH ACCELERATING CALORIES per serving providing 60G of quality protein, 180G of carbs (only 25 sugars) and healthy fats.*
Drinkability
Getting all of the quality CALORIES you need in one shake without being able to SLUG it down just doesn't cut it. Ronnie Coleman King Mass XL flavor system delivers a MILKSHAKE taste with seamless mixability every time making slamming down your shake a TREAT not a CHORE.*
High Protein
In order for your muscles to GROW you need to supply them with enough PROTEIN to get the job done. Ronnie Coleman King Mass XL packs a massive 60G of protein per serving to help keep your muscles FED and in an ANABOLIC state.*
Recovery
In your pursuit of KING-SIZED MASS you will be hitting the iron like a BEAST! That means you will need KING-SIZED RECOVERY. Flooding you muscles with the protein and carbs in Ronnie Coleman King Mass XL will support GLYCOGEN storage and recovery preparing you for your next brutal workout.
60g Protein*
180g Carb Matrix*
Creatine & Glutamine*
Weight Gain*
1000+ Calories*
Meal Replacement*
Milkshake Taste*
44 / 108 Scoops
Ronnie Coleman Smart Shaker
Wherever you go, bring along your Ronnie Coleman Smart Shaker. Its three compartments mean you can store several servings of your nutritional supplements – creatine, protein, vitamins, capsules, pre- or post-work supplements… whatever you like! SmartShake is made from BPA and DEHP-free plastic and is 100% leak-proof.
You can use it every day, store it in the freezer, heat its contents in the microwave and wash up in the dishwasher afterwards. It's designed for real life. SmartShake's unique design is compact, yet light. And thanks to its snap-on strainer-mixer, there are no loose parts. It comes in a variety of colors, so you can even match it to your training gear. After all, if you're going to work hard, you might as well look good too.
Ronnie Coleman Smart Shaker

 is a high-quality, leak-proof shaker cup that stores your daily dose of pills and powders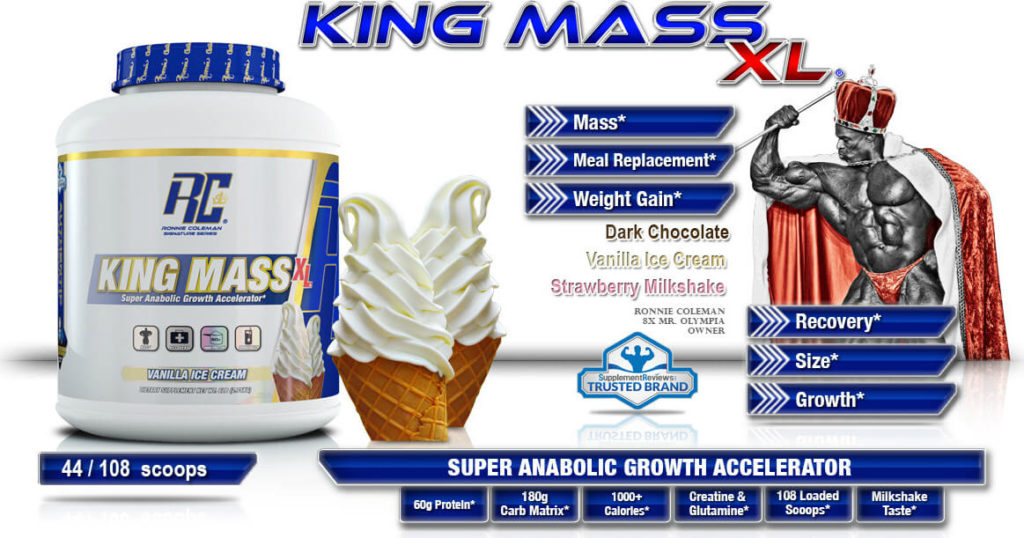 Supplement Facts
Serving Size: 2 Scoops (125g)
Servings Per Container: 27 (108 Scoops)
Amount Per Serving % DV
Calories 500
Calories from Fat 23
Total Fat 3 g 5%
Saturated Fat .5 g 3%
Trans Fat 0 g
Cholesterol 10 mg 3%
Total Carbohydrates 89 g 30%
Dietary Fiber 0 g 0%
Sugar 12 g ‡
Protein 30 g 60%
Calcium 30%
Iron 5%
Sodium 85 mg 4%
Potassium 55 mg 2%
† Percent Daily Values are based on a 2,000 calorie diet.
‡ Daily Value Not Established
Ingredients:
King Mass XL Carbohydrate Matrix (Maltodextrin, Fructose, Waxy Maize), King Mass XL Protein Blend (Milk Protein Isolate, Whey Protein Isolate, Whey Protein Concentrate & Micellar Casein), Natural & Artificial Flavors, Vreamer (Partially Hydrogenated Soybean Oil, Corn Syrup Solids, Sodium Caseinate, Mono & Diglycerides, Dipotassium Phosphate, Sodium Silicoaluminate & Soy Lecithin). Creatine Ethyl Ester Malate, Medium Chain Trigylcerides (From Coconut), Gum Blend (Cellulose, Xanthan & Carrageenan), Acesulfame Potassium & Sucralose.
Directions For King Mass XL: Suggested Use: Consume 1-1.5 grams of protein per pound of body weight through a combination of KING MASS XL®, high protein foods, and other whole food calorie sources. It is best to consume your protein intake over several smaller meals spread out evenly throughout the day. For optimal results, KING MASS XL® should be used in conjunction with a weight training program along with proper rest under the supervision of a professional.*
Warnings: KEEP OUT OF REACH OF CHILDREN. Must be 18 years of age or older to purchase and/or use this product. Before taking KING MASS XL® or any dietary supplement seek advice from your physician if you are unaware of your current health condition, have any pre-existing medical condition(s), taking any medication(s), planning any medical procedure, pregnant, nursing or contemplating pregnancy. This product contains chemicals known to the State of California to cause cancer and/or birth defects or other reproductive harm. Reduce or discontinue use if you have any adverse reactions such as but not limited to gastrointestinal irritation. Keep out of reach of children and pets.