ROYAL HEMP ORGANIC HULLED HEMP SEEDS (500g)
$27.95
Description
Royal Hemp Organic Hulled Hemp Seeds
What are Royal Hemp Organic Hulled Hemp Seeds? Hemp Seeds have been called the world's most versatile, nutritious and useful plant for many reasons, one of which is because it benefits the human body. Hemp seeds are becoming a welcome addition to the diet of many health-conscious individuals, who have let go of the delusion that anything related marijuana or cannabis is bad, a common misconception imposed on the public over the last 80 years of federal cannabis prohibition.
Hemp seed food products offer the following: the ideal ratio of Omega-3/Omega-6 fatty acids, all 9 essential amino acids, digestible protein, calcium, potassium, phosphorous, riboflavin, vitamin A, vitamin E, vitamin B12, folic acid, vitamin D, magnesium, iron, and zinc. They are also Alkaline and have a PH level of 6.5.
Hemp seeds are also rich in antioxidants, fibre, various minerals, and many vitamins including a hefty dose of vitamin E. They have been used to reduce dry skin and hair, help with muscle regeneration, reduce inflammation, ward off heart disease, and improve immune system function.
These nutritious and healing seeds are starting to be a favourite among vegans and health fanatics, and are often added to smoothies, cereals, oatmeal, and on top of salads or your favourite foods.
ROYAL HEMP SEEDS
Royal Hemp Organic Hulled Hemp Seeds are grown and produced in Canada for human consumption, we chose Canada due to its optimal climate and soil conditions. We use a unique proprietary seed that has adapted to the cold Canadian conditions and produces more Omega fatty acids as a result. Our Hemp seeds are 100% natural, certified organic and grown without using sprays or pesticides.
HEMP SEED BENEFITS           
Certified Organic
Superfood
Vegan-friendly
Gluten free
GMO & Pesticide free
Alkaline
B&E VITAMINS          
Hemp Seeds contain Vitamin B1 (Thiamine), Vitamin B2 (Riboflavin), Vitamin B3 (Niacin) Vitamin B9 (Folate), and Vitamin B6 (Pyridoxine), which are all necessary for energy production in the body. Hemp Seeds also contain Vitamin E, which is rich in anti-oxidants.
OMEGA &6
Hulled Hemp Seeds are a natural source of Omega 3 and Omega 6 fatty acids and contain the perfect ratio of Omega 6 to Omega 3 of 3:1. These fatty acids can only be obtained through diet.
 MAGNESIUM
Hemp contains Magnesium, a vital macro-mineral that is often deficient in our diet and needed by our body for over 300 reactions and functions.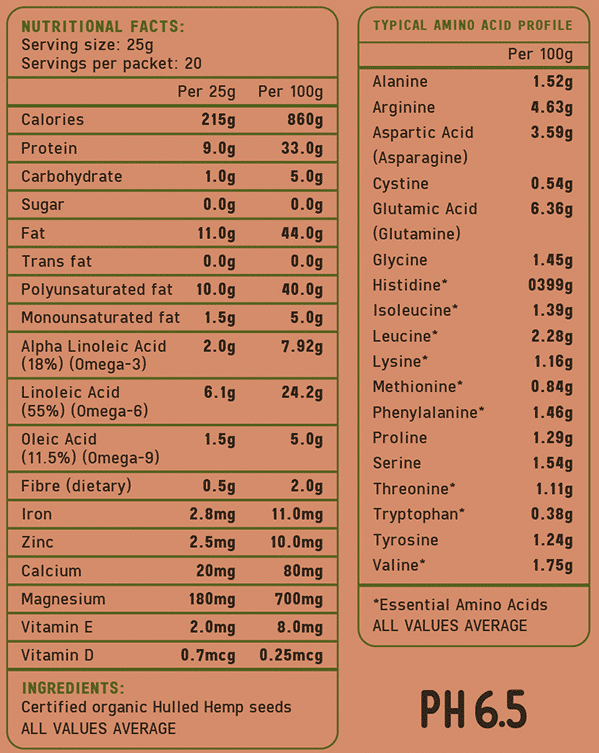 Directions of use: Add  Hulled Hemp seeds to any sweet or savoury dish, shake or smoothie for an added protein packed health boost. Hemp Seeds can also be consumed on their own as a snack or blitzed to create Hemp milk.
Shelf Life: Expected 24 months from date of opening when stored appropriately in cool place in original packaging.
Storage: Store in cool, dry place under 30 to 50% humidity at less than 30°C out of direct sunlight.