RSP AMINO LEAN (234g)
$43.95
Description
RSP Amino Lean
RSP Amino Lean is an all-in-one energy, weight management, & recovery solution that provides the nutritional value you need to build muscle and burn fat. Use Amino Lean Energy Formula to take your daily performance to a new level and achieve your fitness goals.
5G ESSENTIAL AMINO ACIDS
ANYTIME ENERGY
WEIGHT MANAGEMENT
MENTAL FOCUS
ANYTIME ENERGY & PERFORMANCE
125mg natural caffeine from fermented tea leaves to support energy levels, focus and alertness.
ESSENTIAL AMINO ACIDS FOR MUSCLE RECOVERY
Comprehensive blend of essential amino acids to boost performance and support muscle development & repair.
WEIGHT MANAGEMENT SUPPORT
1.5g of L-Carnitine, CLA, Green Tea Extract and Green Coffee Extract promote weight management.
**These statements have not been evaluated by the Therapeutic Goods Administration. This product is not intended to diagnose, treat, cure or prevent any disease. Please consult a qualified professional before undertaking any health, fitness or dietary program.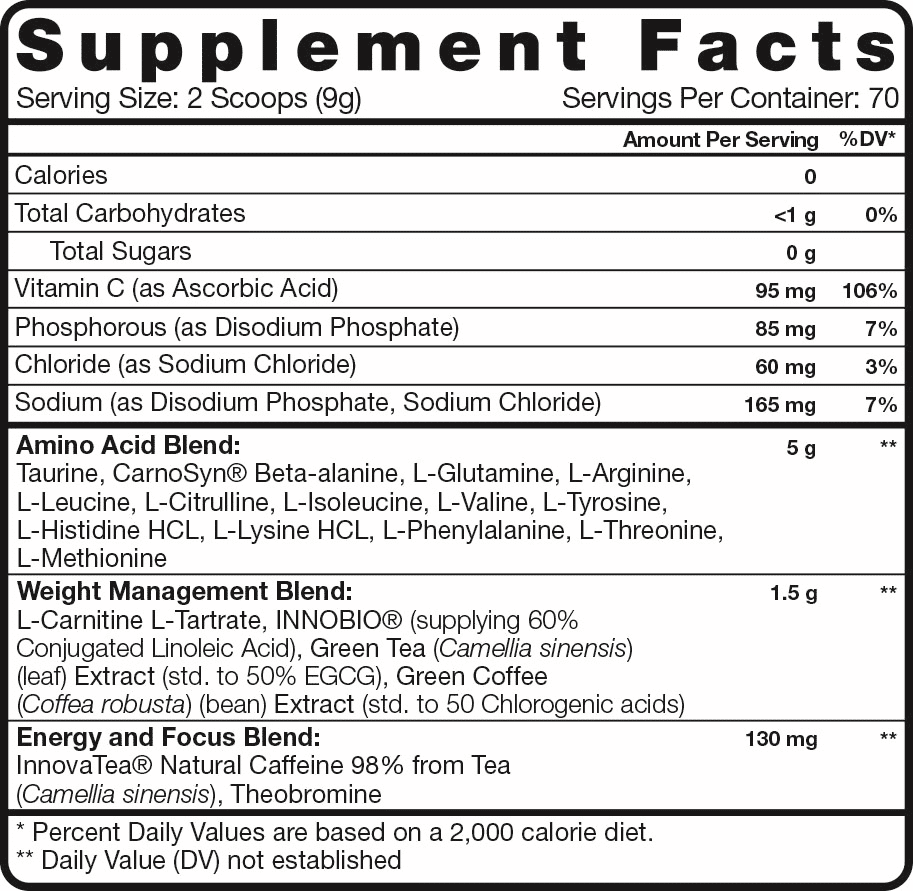 Directions: Mix 2 scoops (1 serving) of AminoLean in 8-10oz of cold water anytime throughout the day.
Recommended Use:
For Anytime Energy & EAA's: Take 1 or more servings first thing in the morning and/or between meals.
For Pre-Workout Energy: Take 1-3 servings 20-30 minutes before training.
For Recovery & Eaa's: Take 1-2 servings after training and/or between meals.
DO NOT EXCEED MORE than 6 scoops (3 servings) in a 4 hour period and do not exceed more than 8 scoops (4 servings) in a 24 hour period.
Additional information
| | |
| --- | --- |
| Flavour | Blackberry Pomegranate, Blue Raspberry, Fruit Punch, Lemon Lime, Strawberry Kiwi, Watermelon |