RSP BCAA 5000 (225g)
$38.95
Description
RSP BCAA 5000
RSP BCAA 5000 supplementation paired with resistance training can lead to increased muscle protein synthesis and muscle growth.
SPEED UP RECOVERY & MUSCLE REPAIR
BCAAs can reduce the breakdown of protein and muscle damage during exercise, thus protecting against muscle loss, decreasing soreness and speeding up muscle recovery.
IMPROVE ATHLETIC PERFORMANCE
Supplementing with BCAAs as part of a resistance training program can result in significant improvements in strength and performance.
2:1:1 Ratio
BCAAs have been shown to play a critical role in muscle protein synthesis and act as a fuel during exercise. Not only is there scientific research supporting BCAAs for improving muscle recovery, but they also have been shown to help preserve existing muscle tissue.
5G INSTANTIZED BCAA
LEAN MUSCLE GROWTH
ATHLETIC PERFORAMANCE
RECOVERY
**These statements have not been evaluated by the Therapeutic Goods Administration. This product is not intended to diagnose, treat, cure or prevent any disease. Please consult a qualified professional before undertaking any health, fitness or dietary program.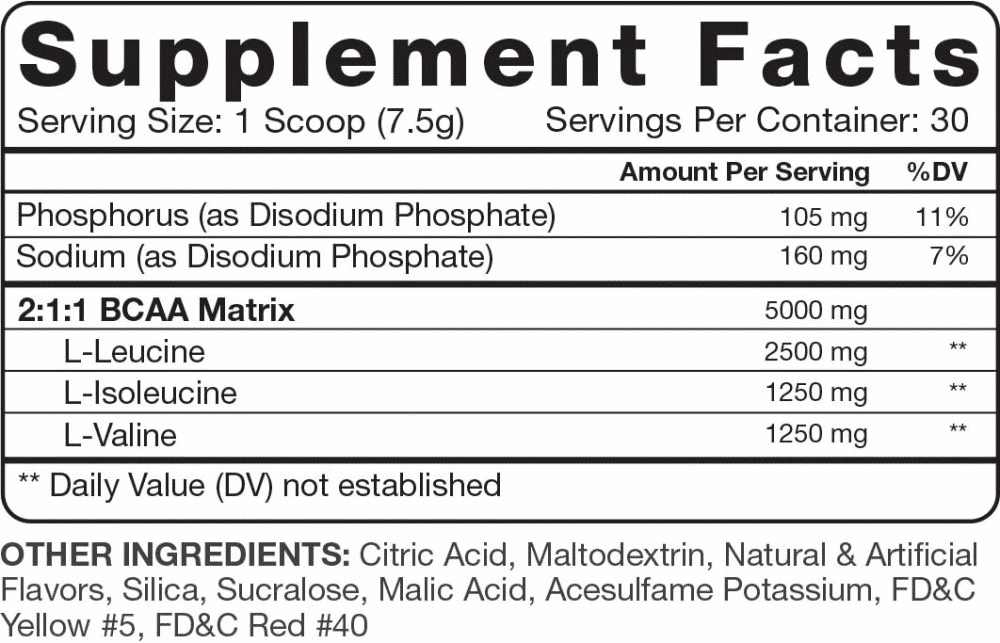 Directions:
As a dietary supplement, mix 1 scoop of BCAA 5000 Powder into 8–10 oz of cold water, between meals, 30–45 minutes before workouts, and/or immediately after workouts.
Consume 1 serving, 1 – 3 times daily.
Additional information
| | |
| --- | --- |
| Flavour | Blue Raspberry, Orange Mango |