RSP QUADRALEAN THERMO (180 Capsules)
$55.95
Description
RSP Quadralean Thermo
RSP Quadralean Thermo is designed to drive thermogenesis & support fat burning while simultaneously providing all-natural energy and focus. It is truly the all-in-one thermogenic weight
management solution.
WEIGHT MANAGEMENT
NATURAL ENERGY
APPETITE SUPPORT
LASER FOCUS
ALL-IN-ONE WEIGHT MANAGEMENT
Contains ingredients designed for men & women to help burn fat and lose weight while preserving lean muscle mass and boosting energy.
NATURAL ENERGY & APPETITE SUPPORT
Designed to support weight management and drive thermogenesis while also providing clean energy and focus with no jitters.
NEURO BLEND FOR MENTAL PERFORMANCE
Proven ingredients that play a critical role in brain, nervous system and muscle function to boost focus, mood and concentration.
**These statements have not been evaluated by the Therapeutic Goods Administration. This product is not intended to diagnose, treat, cure or prevent any disease. Please consult a qualified professional before undertaking any health, fitness or dietary program.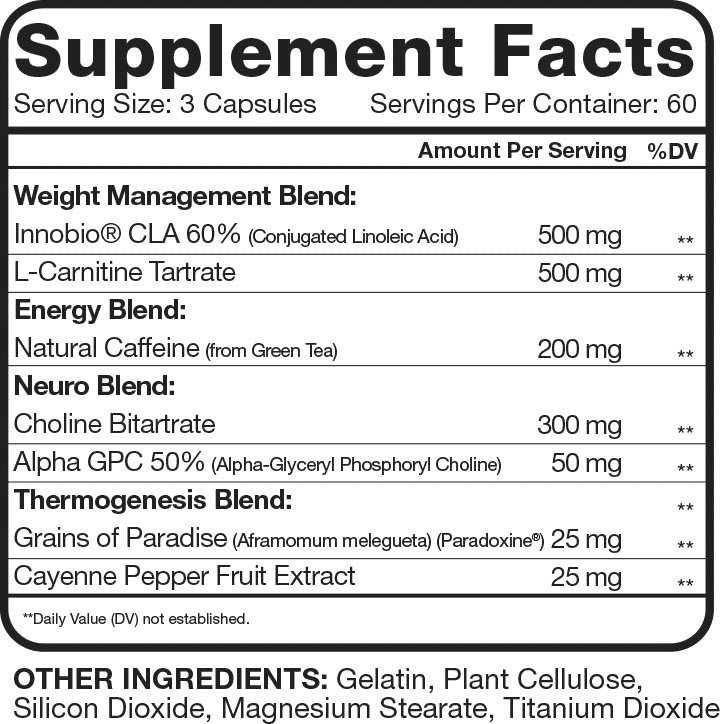 Directions:
Take 1 serving first thing upon waking in the morning and 1 serving 4-6 hours later. If you are sensitive to caffeine, do not take within 6 hours of bedtime. Do not exceed 2 servings (6 capsules) in a 24-hour period.