RSP TRUE GAIN (5.3kg)
$94.95
Description
RSP True Gain
RSP True Gain is the premium lean weight gainer. Powered with a massive dose of 1,210 calories per serving and 50 g of fast and slow absorbing proteins, True Gain is the ideal solution to fuel muscle growth, support quality weight gain and maximize recovery.
50 g Protein | 10 g Naturally Occurring BCAAs | 8 g Naturally Occurring Glutamine & Glutamic Acid | 1,210 Calories per Serving
Natural & Artificial Flavors
Powdered Protein & Carbohydrate Drink Mix
8 Servings
Gluten Free
Full Spectrum of Protein Sources
50 g blend of fast and slow release proteins from Whey Protein Isolate, Whey Protein Concentrate and Milk Protein Concentrate.
Packed with 1,210 calories for optimal weight gain
Build muscle and add size with 1,210 calories of effective carbs and protein.
Rich in BCAAs and Glutamine
Delivers potent dosages of essential amino acids, with 10 g of Naturally Occurring BCAAs and 8 g of Naturally Occurring Glutamine and Glutamic Acid.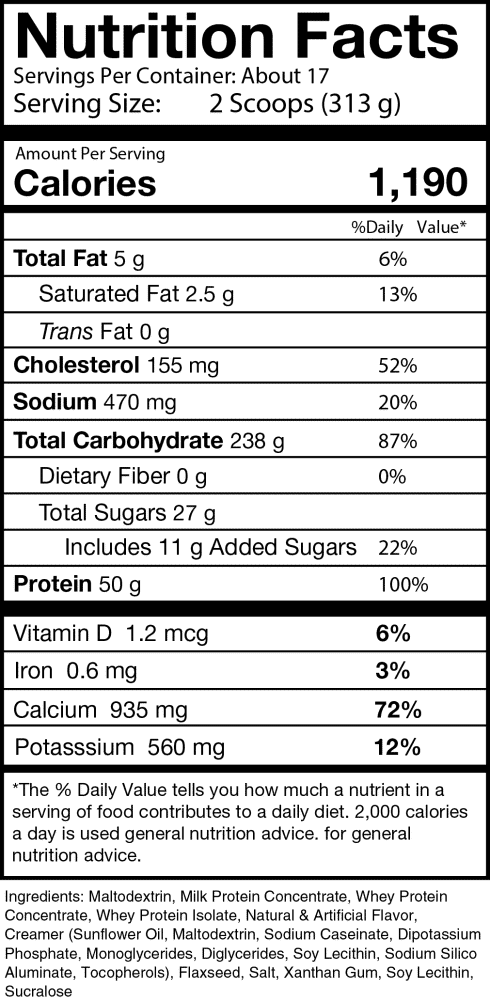 Suggested Use
Training day: Mix 16-20 oz of water with 2 full scoops and consume in the morning and after workout.
Off day: Mix 16-20 oz of water with 2 full scoops and consume between meals.
Contains: Milk and soy lecithin.
Warnings
Use this product as a food supplement only. Do not use for weight reduction.
Warning: This product contains a chemical known to the state of California to cause birth defects, or other reproductive harm.
Store in room temperature, in a dry place.