RSP TRUEFIT GRASS-FED WHEY PROTEIN (Box/12 x 49g)
$49.95
Description
RSP TrueFit Grass-Fed Whey Protein
RSP TrueFit Grass-Fed Whey Protein is the ideal balance of all natural protein, fruit and vegetables, fiber, healthy fats and probiotics in one convenient protein shake. It contains no GMOs, gluten, soy, artificial ingredients or preservatives. With real food ingredients, grass-fed whey protein, & high-quality probiotics, TrueFit delivers protein rich, whole food nutrition whether you need a post workout shake or on-the-go meal replacement protein powder. Its also suitable for Men & Women
Grass-Fed Protein from Pasture-Raised Cows
25 g grass-fed whey protein from humanely raised cows in the USA. Never treated with added antibiotics or hormones.
Organic Fruits & Vegetables
12 Non-GMO Project Verified ingredients made from leafy greens, fruits and superfoods.
Healthy Digestion with Probiotics and Prebiotics
8 g prebiotic fiber and 1 billion CFU probiotics (Bacillus Coagulans) per serving.
Fat from Whole Food Sources
3.5 g of quality fat from whole food sources, including MCT Oil.
**These statements have not been evaluated by the Therapeutic Goods Administration. This product is not intended to diagnose, treat, cure or prevent any disease. Please consult a qualified professional before undertaking any health, fitness or dietary program.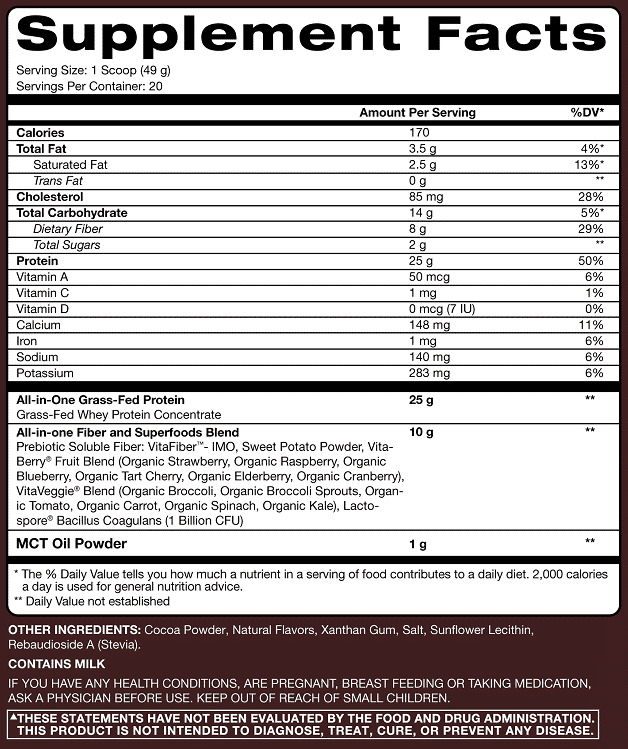 Suggested Use:
Mix 1 packet with 8-16 oz of water, depending on consistency preference. Start with 8 oz and add up to 8 more until preferred consistency is achieved. Also delicious with your favorite dairy or non-dairy alternatives.
Warnings:
If you have any health conditions, are pregnant, breast feeding or taking medication, ask a physician before use. Keep out of use of small children.