RULE 1 EASY PROTEIN MAPLE BROWN SUGAR OATMEAL (62g)
$6.80
Description
Rule 1 Easy Protein Maple Brown Sugar Oatmeal
Introducing Rule 1 Easy Protein Maple Brown Sugar Oatmeal, we've infused the goodness of whole-grain oats with fast-acting protein from hydrolyzed whey to deliver a hearty meal in minutes. Packed in travel-friendly containers and loaded with long-lasting complex carbs, muscle-replenishing essential amino acids (EAAs), and hunger-filling fiber, Easy Protein Oatmeal™ is built to fuel every adventure from classroom to weight room.

WHEY PROTEIN ENHANCED HOT CEREAL
20g complete proteinˆ
Heat-stable 100% whey protein hydrolysate
Hearty whole-grain ground oats
Convenient cook-in & carry-along containers
Good source of dietary fiber
3.5g-4g fat, 1g saturatedˆ
Rich in EAAs & BCAAs
Real dried fruit pieces
Great taste, natural flavors
Just add water or milk to prepare
**These statements have not been evaluated by the Therapeutic Goods Administration. This product is not intended to diagnose, treat, cure or prevent any disease. Please consult a qualified professional before undertaking any health, fitness or dietary program.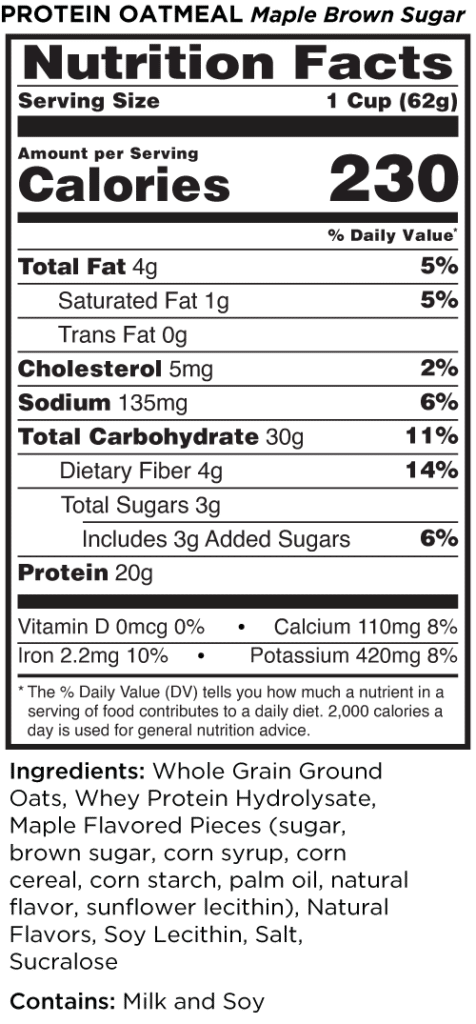 Directions:
1. Remove lid, protective seal, and spoon.
2. Add 4 ounces of water to cup and stir well. Add slightly more liquid for a thinner consistency.
3. Microwave on high for 45-60 seconds.
4. Remove from microwave, stir contents, cover with lid, and wait 2-3 minutes for oats to soften. Enjoy!