Rule 1 Player 1 (220g) Gaming Performance Booster
$59.90
Description
Rule 1 Player 1
Rule 1 Player 1 contains cutting edge nutrients to help you take your gaming to the next level! Including Nootropics to support cognitive function and keep you in the zone, carotenoids to guard against the impacts of prolonged blue light exposure plus loads more!
Player1 also features a combination of amino acids, mental energizers, and cofactors, including theanine, coffee bean extract, and b-vitamins to boost alertness, reaction time and focus to give you that winning advantage!
ZERO Sugar!
ZERO Proprietary Blends!
ZERO Banned Substances!
ZERO Limitations!
Lutemax – Multiple clinical studies support the role of Lutemax 2020 to increase the protective layer of carotenoids in the retina, improve visual performance, protect the eyes during prolonged exposure to digital device use, improve sleep quality and support cognitive performance.
ZumXR – zümXR® is an active ingredient delivery technology. While it can be applied to a wide variety of active ingredients we are going to be focusing on zümXR® Caffeine. zümXR® Caffeine is extended released caffeine that alters how caffeine is absorbed and then processed by the body. The technology of zümXR® takes your typical caffeine that has extremely rapid absorption and is processed in the body almost instantly and delays the entire process.
NooLVL – nooLVL is a non-stimulant nootropic that enhances performance in fast-paced competition. This bonded arginine silicate complex with an additional optimized dose of inositol was designed for and studied in a population of gamers to target benefits that are most important to the booming esports industry. nooLVL works FAST (in 15 minutes!) and delivers increased energy3 safely, without negatively affecting heart rate or blood pressure.
TeaCrine – TeaCrine® is a patented compound that delivers energy, mental clarity, and improved motivation and mood.
GAMING PERFORMANCE BOOSTER
Support brain-eye connection
Boost reaction time & coordination
Increase energy & alertness
**These statements have not been evaluated by the Therapeutic Goods Administration. This product is not intended to diagnose, treat, cure or prevent any disease. Please consult a qualified professional before undertaking any health, fitness or dietary program.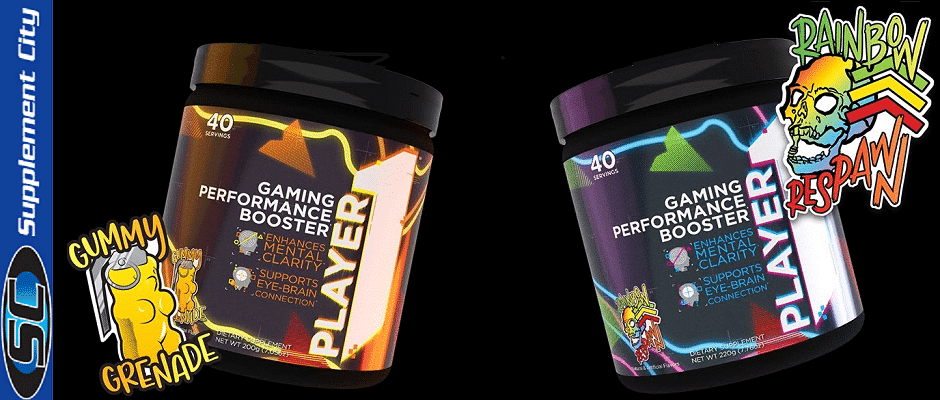 Additional information
| | |
| --- | --- |
| Flavour | Gummy Grenade, Rainbow Respawn |