RULE 1 R1 CREATINE (750g)
$39.95
Description
Rule 1 R1 Creatine
Rule 1 R1 Creatine delivers the most effective performance enhancing supplement (creatine) in the most extensively researched form (monohydrate). Better still, our creatine monohydrate powder is micronized to keep it suspended longer for easier drinking. If greater training capacity and lean mass are what you're after, take a strong look at R1 Creatine.*
100% micronized creatine monohydrate
5 grams of creatine per serving
Zero fillers, no banned substances & gluten free
RULE ONE PROTEINS™ COMMITMENT TO QUALITY
Since day one, Rule 1 Proteins™ has proven that exceptional quality and superior value aren't mutually exclusive. We develop our own products, source the finest ingredients, and manufacture them in a FDA-inspected, NSF/GMP-compliant, and Informed-Choice certified facility. Streamlining and tightly controlling every phase of the process, from start to finish, enables us to offer premium products without the premium price.
**These statements have not been evaluated by the Therapeutic Goods Administration. This product is not intended to diagnose, treat, cure or prevent any disease. Please consult a qualified professional before undertaking any health, fitness or dietary program.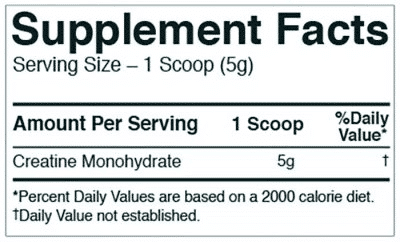 Directions:
Consume 20-25 g of Creatine Monohydrate for 4-5 days to help promote muscle saturation. Maintain Creatine levels with 5-7 g per day, thereafter. For best results, mix 1 rounded teaspoon of Creatine Powder into 8 oz. of cold water or your favorite sugary, non-acidic and non-caffeinated beverage.
Keep out of the reach of children.