RULE 1 R1 PRE AMINO (252g)
$39.95
Description
Rule 1 R1 Pre Amino
Rule 1 R1 Pre Amino is Part amino. Part energy. Entirely versatile. Use it instead of a coffee in the morning or afternoon or have it before a study session, or before your hit cardio. Combining the performance enhancing benefits of naturally occurring caffeine, with an amino acid blend that has been designed to enhance both recovery and performance,
With added amino acids to support the removal of lactic acid, improve ATP production and also enhance blood flow to ensure optimal nutrient delivery, Pre Amino is the only product you may need.
The first rule of recovery is protein consumption and Pre Amino gives your working muscles everything they need and more.
Get the essential amino acids you need and the energy you thrive on, in the convenience of a single scoop.
What's in R1 Pre Amino:
6g of essential amino acid (EAA)
2.5g BCAA's
120mg energy blend with coffee fruit and green tea extracts
CarnoSyn® beta alanine, citrulline, and glutamine
No fillers
No added sugar
Increase your recovery & mood, while enhancing performance with R1 Pre Amino, try one of the delicious flavors today!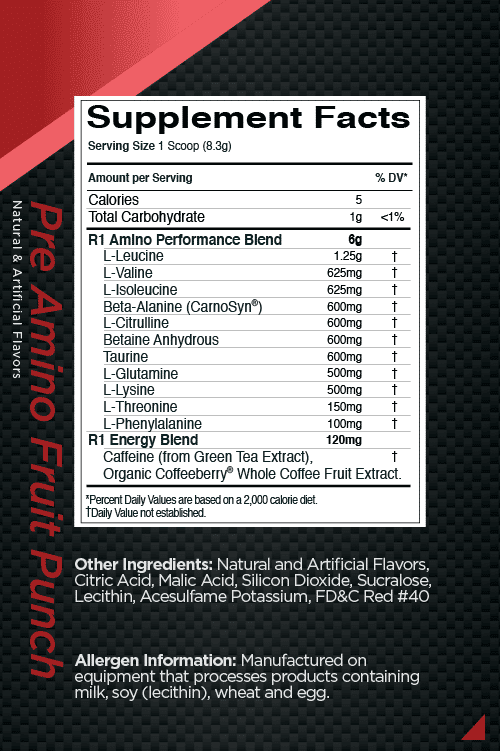 Directions: Mix 1 scoop with 180 to 240ml of cold water or your favorite beverage.
TOTAL CAFFEINE CONTENT: Approximately 100mg per one (1) scoop.
Additional information
| | |
| --- | --- |
| Flavour | Peach Mango, Watermelon Splash |