RULE 1 R1 PROTEIN HC (650g) MIX HOT OR COLD
$59.95
Description
Rule 1 R1 Protein HC
Rule 1 R1 Protein HC is 100% heat stable whey protein hydrolysate, Rule 1 has added a HOT new feature to our flagship protein: heat stability. This limited-edition variety is made with pure, fast-acting 100% whey hydrolysate. Specially designed to withstand mixing temperatures ranging from boiling to freezing, this R1 Protein is equally enjoyable served hot or cold. For an extra anytime-energy boost, try the Bold Brew Coffee flavor. Made with real coffee bean extract, each serving provides about 100mg of natural-source caffeine.
ZERO Sugars
ZERO Creamers
ZERO Gluten
ZERO Banned Substances
ZERO Amino Spiking
ZERO Limitations
100% HEAT STABLE WHEY PROTEIN HYDROLYSATE
100% heat stable
25g fast-acting protein*
Made with pure whey hydrolysate
Tastes great mixed with hot or cold liquids
12g essential amino acids (EAAs)*
Low fat, 3g total carbs*
100mg real coffee caffeine (Bold Brew Coffee flavor only)*
Use in hot cereals or for baking
WHAT'S THE DIFFERENCE BETWEEN R1 PROTEIN AND R1 PROTEIN HC?
R1 Protein and R1 Protein HC both contain premium all-whey ingredients and deliver 25g of protein per serving. R1 Protein HC differs from original R1 Protein in that 100% of whey has been specially hydrolyzed to withstand greater temperature extremes. (The "HC" in stands for "Hot or Cold.") This enhanced functionality allows R1 Protein HC to be mixed with boiling water, added directly to steaming hot coffee or oatmeal, incorporated into your favorite baked goods recipes, or made into frozen treats without fear of denaturation.
WHAT DOES 'HYDROLYZED' MEAN?
Hydrolysis, hydrolyzed, and hydrolysate are terms that refer to the process or end product of reducing longer protein strands into shorter pieces called peptides. These smaller, amino-packed fragments are more easily digested and absorbed, to help facilitate the muscle recovery process after exercise.
**These statements have not been evaluated by the Therapeutic Goods Administration. This product is not intended to diagnose, treat, cure or prevent any disease. Please consult a qualified professional before undertaking any health, fitness or dietary program.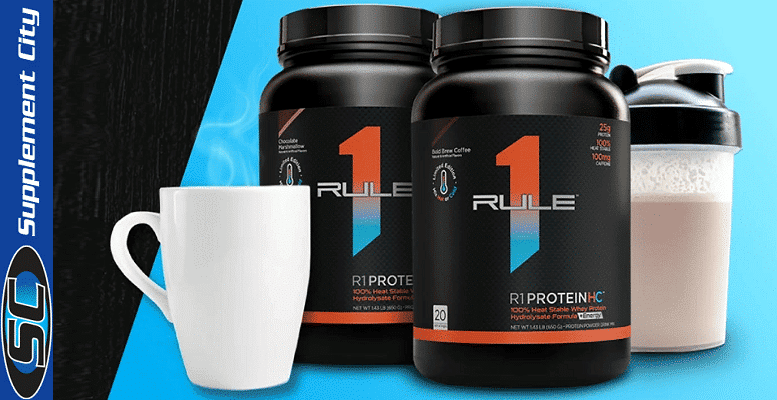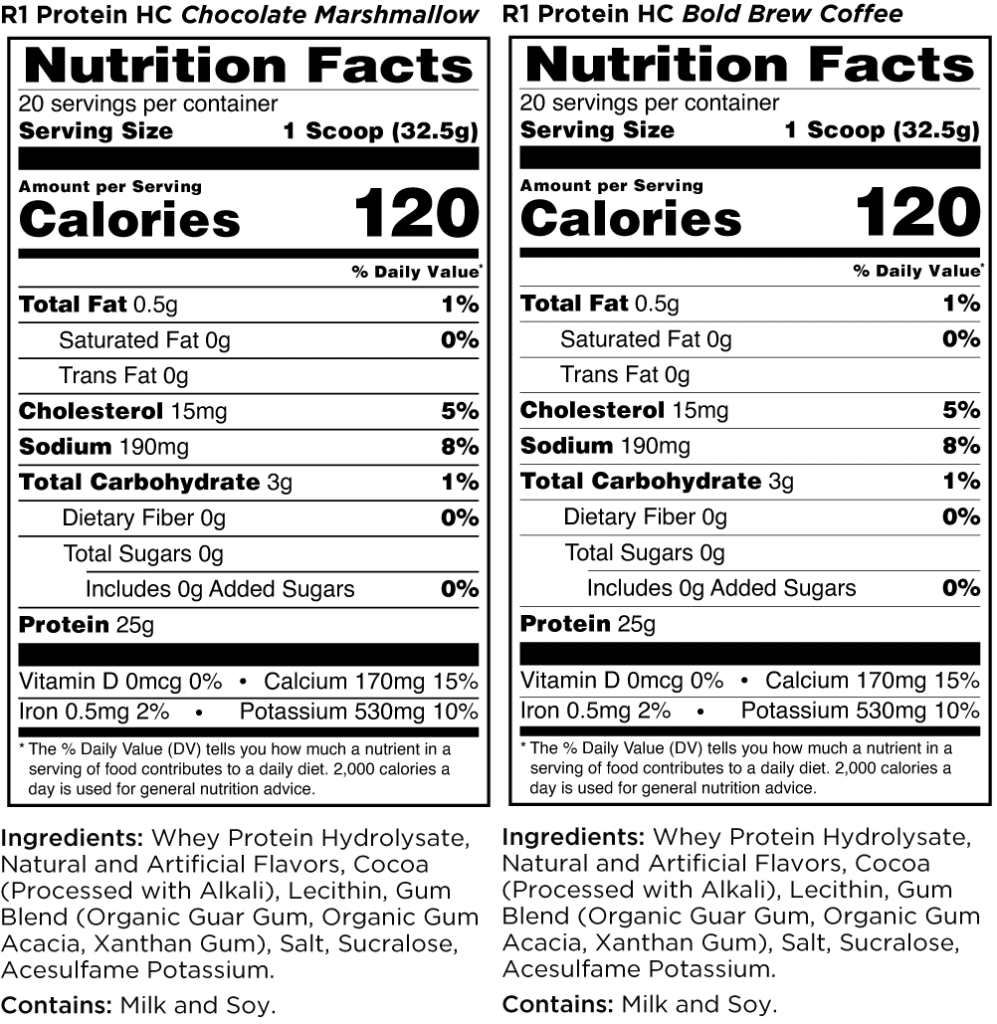 Directions:
Warm Protein Beverage: Using a heat-stable cup and spoon, mix one scoop of R1 Protein HC with approx. 6-8 oz. of hot water or warm milk.
CAUTION: AVOID GETTING BURNED. DO NOT USE SHAKER CUP OR BLENDER TO MIX WARM PROTEIN BEVERAGES.
Cool Tasty Shake: Mix one scoop of R1 Protein HC with approx. 6-8 oz. of cold water, milk, or your favorite beverage in a shaker cup or glass with spoon.
Quick Breakfast: Stir one scoop into hot cereal or yogurt for a fortified start.
Additional information
| | |
| --- | --- |
| Flavour | Bold Brew Coffee, Chocolate Marshmallow |