RULE 1 R1 PROTEIN NATURALLY FLAVORED (2174g)
$149.95
Description
Rule 1 R1 Protein Naturally Flavored
Rule 1 R1 Protein Naturally Flavored is a great tasting whey protein isolate. This Rule 1 R1 Protein is Naturally Flavored and sweetened.
100% WHEY ISOLATE/HYDROLYSATE FORMULA NATURALLY RICH IN BCAAS
Rule 1 R1 Protein Naturally Flavored delivers two of the purest, fastest and most naturally BCAA rich sources available. How pure? So pure that over 80% of the calories in each serving are derived from protein, leaving no room for sugars or fillers.
NATURALLY FLAVORED
A great addition to the Rule One family, R1 Protein—naturally flavored! Same great Whey Isolate/Hydrolysate formula but now offered naturally flavored! To make a good thing even better, R1 Protein Naturally Flavored is sweetened with stevia and monk fruit!
WHEY PROTEIN ISOLATE & WHEY PROTEIN HYRDROLYSATE
• 25g of protein per serving
• ZERO concentrates, ALL Isolate formula
• Each single scoop serving delivers approximately 3.1g of leucine, 1.8g of isoleucine, and 1.6g of Valine
• Over 6g+ of naturally occurring BCAAs and over 4g of naturally occurring Glutamine/Glutamic Acid
• NO gums, creamers, fillers. NO amino spiking!
♦ ZERO concentrates ♦ ZERO gums ♦ ZERO creamers ♦ ZERO spiking ♦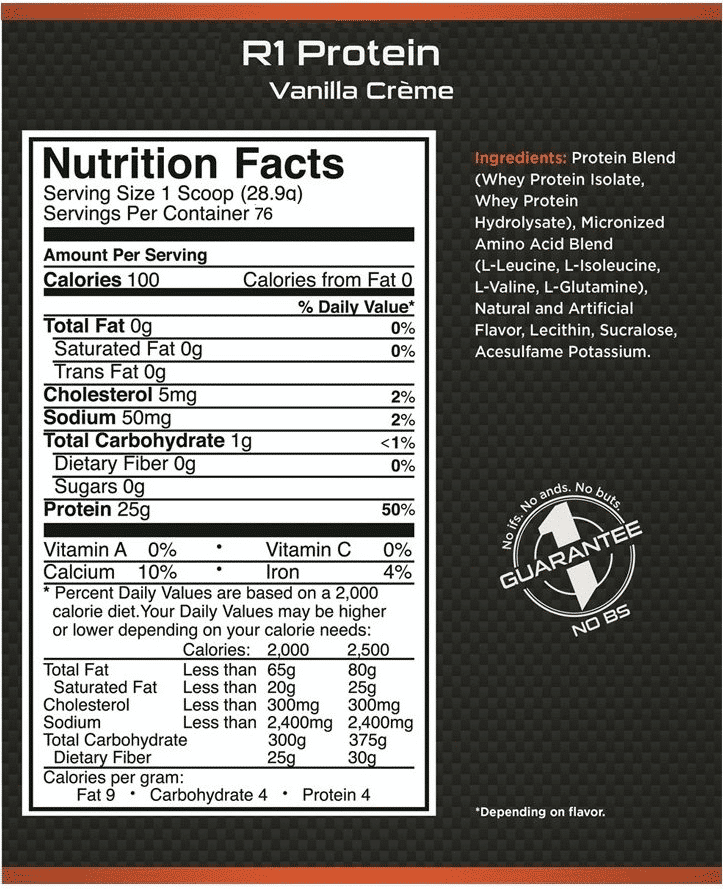 Directions: Mix one heaping scoop of R1 Protein with approx. 8oz. of water, milk, or your favorite beverage in a shaker cup or glass with spoon.
Juicy Smoothies: Add your favorite fruit and ice to the above, mix in blender and enjoy!
Quickie Breakfasts: Stir one scoop into oatmeal or yogurt for a fortified start.
Suggested Use: Consume 1-3 shakes (or equivalent) per day, based your personal protein requirements.
Additional information
| | |
| --- | --- |
| Flavour | Chocolate (Naturally Flavored), Naturally Plain, Vanilla (Naturally Flavored) |