Rule 1 R1 Train Daily Multivitamin (180 Tablets)
$64.95
Description
Rule 1 R1 Train Daily Multivitamin
Rule 1 R1 Train Daily Multivitamin is a high potency multivitamin formula, A good daily multivitamin is as foundational as protein. Our R1 Train Daily supplies all the basics – 24 vitamins and minerals – plus a host of compounds that go way beyond your typical grocery store multi. Things like digestive enzymes, amino acids, herbal extracts, a carotenoid complex, and phytonutrient-rich fruit concentrates. Solidify your base with R1 Train Daily.
ZERO Calories
ZERO Sugars
ZERO Non-Functional Filler Ingredients
High Potency Multivitamin Formula
50 active ingredients
24 vitamins & essential minerals
37.5 mcg vitamin D3
275 mg+ B-complex vitamins
Amino acids, enzymes, antioxidants, and phytonutrients
Carefully blended, tableted, coated, and packaged in a GMP facility in the USA
Should I take R1 Train Daily with food?
We recommend taking R1 Train Daily with food to enhance absorption of fat soluble vitamins A, D, and E as well as compounds such as lutein and lycopene.
Do I need to take all three tablets at once, or can I break the serving size up?
Taking all three at once is easier for most people to remember, but it is fine to split the dose. Example: Take one tablet before breakfast, another before lunch, and the third before dinner.
Can I take R1 Train Daily before bed?
Yes. Vitamins and minerals act as cofactors in a variety of enzymatic reactions, but do not directly provide any energy and should not have any impact on sleep quality.
**These statements have not been evaluated by the Therapeutic Goods Administration. This product is not intended to diagnose, treat, cure or prevent any disease. Please consult a qualified professional before undertaking any health, fitness or dietary program.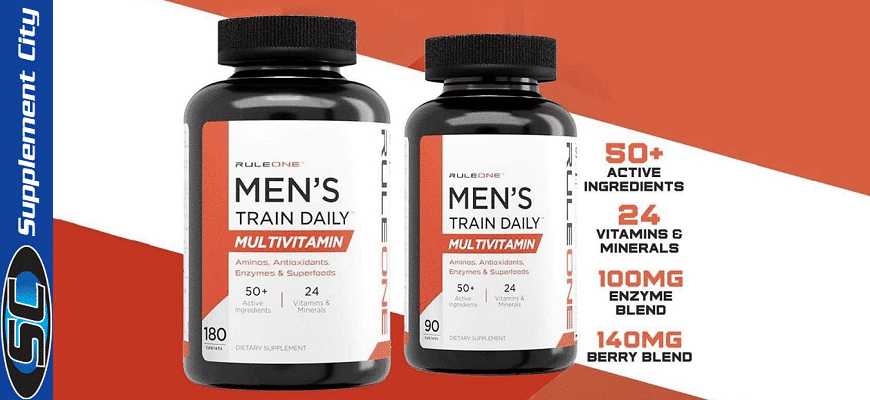 Directions:
As a dietary supplement, take three (3) tablets daily with food.
Warning:
Manufactured on equipment that processes products containing milk, soy (lecithin), wheat and egg. STORE IN A COOL, DRY PLACE. KEEP OUT OF REACH OF CHILDREN.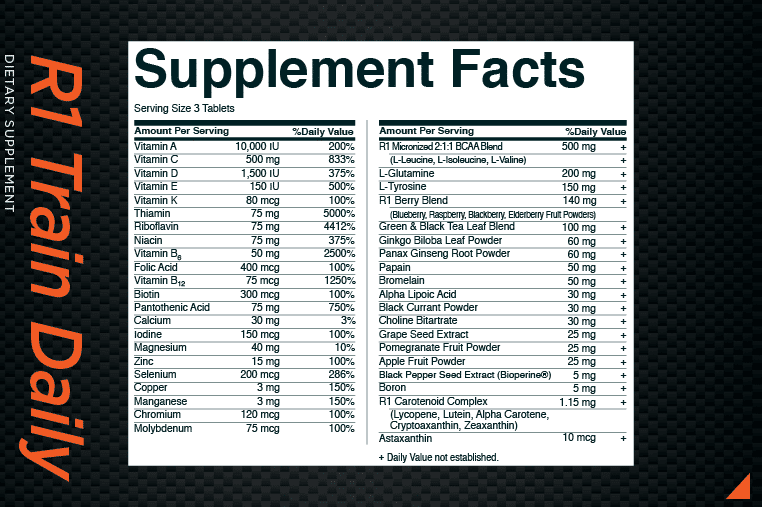 Directions:
As a dietary supplement, take three (3) tablets daily with food.
Warning:
Contains: Tree Nut (Ginkgo)
WARNING: KEEP OUT OF REACH OF CHILDREN. FOR USE BY HEALTHY ACTIVE ADULTS ONLY. CONSULT YOUR PHYSICIAN BEFORE USING THIS PRODUCT IF YOU ARE TAKING ANY MEDICATION, ARE UNDER A PHYSICIAN'S CARE FOR ANY MEDICAL CONDITION, OR UNDER 18 YEARS OF AGE. NOT FOR USE BY WOMEN THAT ARE PREGNANT, TRYING TO GET PREGNANT, OR NURSING.