SAN GREEN COFFEE BEAN EXTRACT (60 Capsules)
$26.95
Description
SAN Green Coffee Bean Extract
SAN Green Coffee Bean Extract is a powerful antioxidant that helps protect against oxidative stress caused by free radicals, a major cause of accelerated aging. Our raw materials are derived from raw, unroasted coffee beans. Our raw materials are derived from raw, unroasted coffee beans.
SAN's Green Coffee Bean EXTRACT has been documented in very recent clinical research to support normal cellular regeneration and growth.*
SAN's Green Coffee Bean EXTRACT contains a minimum of 50% chlorogenic and 3% caffeic acids, two primary compounds responsible for the biological activity of green coffee beans.*
SAN products are manufactured under GMP (Good Manufacturing Practices) standards with stringent quality control guidelines.
Additionally, each lot produced by SAN is independently tested for purity and potency by HPLC analysis to ensure only the highest quality ingredients in our innovative formulas.
Product Recap:
50% chlorogenic Acid
Powerful antioxidant*
Research Back*
Strong fat loss aid*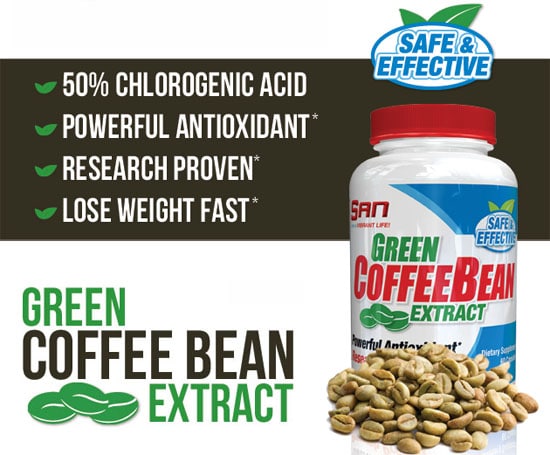 SAN Nutrition
SAN Nutrition's powerful supplements have been helping athletes increase muscle mass, decrease body fat, and improve athletic performance since 1996. We have earned a well-deserved reputation for excellence because we have consistently delivered the highest quality and most innovative products on the market. We have not only led the way with the most significant supplement breakthroughs, the potency and effectiveness of every product bearing a SAN Nutrition label is light years ahead of the competition.
Committed to Quality and Innovation
Backed by extensive scientific research, along with practical application field studies, SAN Nutrition continually raises the bar in the development of the most powerful, safest-supplements in the world. Still we are never satisfied and always strive for greater achievements. SAN is built on a foundation of quality, innovation and value all designed for the benefit and service of the customers who use our supplements. SAN Nutrition doesn't rely on hype to instill a false sense of hope. We don't need to. We actually delivers the real products that provide RESULTS!
Supplement Facts
Serving Size: 1 Capsule
Servings Per Container: 60
Amount Per Serving % Daily Value
Green Coffee Bean Extract (seed) 500 mg †
(Standardized for 50% Chlorogenic Acids and 1% Caffeine)
† Daily values not established.
Other Ingredients:
Microcrystalline Cellulose, Gelatin, Silicon Dioxide, Magnesium Stearate, Titanium Dioxide, FD&C Color Blue #2
Manufactured in a facility that also processes egg, shell fish, fish, soy, peanuts, tree nuts and milk ingredients.
Directions For Green CoffeeBean Extract: Take 1-3 Capsules once daily with meals. Use GREEN COFFEE BEAN EXTRACT by SAN in conjunction with a diet and exercise program. This product does not need to be cycled and can be taken continuously.