SAN RAW FUSION (1.8kg)
$109.95
Description
San Raw Fusion 1.8kg
San Raw Fusion 1.8kg is Hypo Allergenic. Raw Plant Based Protein Fusion.
Vegan Diets Haven't Always Been Easy For Athletes – In the past, it wasn't always an easy choice to live a vegan lifestyle if you're goals were to be a serious athlete, let alone if you wanted to build muscle mass. It was hard enough to get abundant protein through diet alone, but almost all supplemental protein sources of the past haven't been vegan-friendly.
A New Generation of Plant Protein Without Sacrifice
Over a year full of vigorous research and development in cold-extrusion technologies has resulted in an unmatched, vegan-approved protein formula from SAN. Not only is RAWFUSION non-GMO, organic and allergen-free, it also offers an incredible 21 grams of custom bio-fermented protein per serving—in a vegan formula.*
100% Bio-fermented plant protein matrix. Gluten free. Non-dairy. Non-GMO. Non-animal. Hypo allergenic. Mimics the amino aid profile of milk protein. Incredible taste.
Easy digestion. Raw Fusion is the world's first unmatched proprietary raw plant fusion matrix that sets a new industry standard for performance and taste. San Raw Fusion contains a creamy, positively charged protein matrix that not only tastes incredibly awesome, but it's good for you.
Raw Fusion is the brainchild of over 1 year of intense research & experimentation in the field of protein cold-extrusion technologies.
With Raw Fusion you are getting 21 grams of an allergen, GMO & animal free custom bio-fermented plant protein fusion that is loaded with Pea Protein Isolate, brown rice sprouted & artichoke protein concentrate swirled in a delicious vanilla bean matrix.
Raw Fusion amino acid profile mimics that of whey/milk thus is rich in Glutamine and contains over 4.580 mg of BCAAs (Leucine, Isoleucine, Valine) per serving.
Our patent pending formulation is free of solvents, radiation, artificial colors, sweeteners or anything created synthetically.
Further, each ingredient is extracted from raw ingredients that are GMO, herbicide and pesticide FREE.
Raw Fusion is a next generation vegan, Raw Plant based protein that is not only easily digestible, but also ultra-healthy and ideal for those who like to be healthy and fit without compromising taste.
No matter if you are looking to manage weight, increase vitality, trying to curb appetite or simply want to add quality macro-nutrients to your diet, here are just a few reasons why Raw Fusion is for you.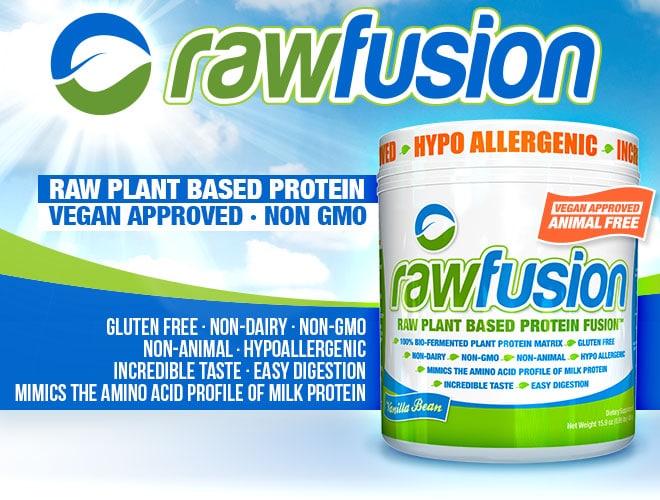 Supplement Facts:
Serving Size: 1 Scoop
Servings Per Container: 610
Amount Per Serving
%Daily Value
Calories 116
Calories from Fat 9
Total Fat 0.7 g 1%
Saturated Fat 0 g
Cholesterol 0 mg
Sodium 188 mg 8%
Potassium
25 mg 1%
Total Carbohydrate 5 g
2%
Dietary Fiber 0.7 g
3%
Sugars 1 g
Protein 21 g
42% Trans Fat 0 g
Iron
2mg
11%
Phosphorus
137mg
14%
*Percent Daly Values are based on a 2,000 calorie diet.
Other Ingredients: Protein blend (pea protein isolate, rice protein isolate, artichoke protein powder), fructose, natural flavors, guar gum, stevia, glycine. No yeast, wheat, sugar, salt, soy, dairy, fish or preservatives added.
Directions: Add one scoop to 8-10 oz. of cold water or your favorite beverage in a shaker cup or blender and mix for about 10 seconds. Raw Fusion also works great for baking (for added protein), with oatmeal and/or with fruit juices.
Protect from heat and freezing.
Keep away from local space heat sources such as space heaters and radiators. Do not expose to direct sunlight or leave in vehicle exposed to sunlight. Do not allow exposure to high humidity above 65%). Keep container tightly closed when not in use.
Manufactured in a facility that also processes egg, shell fish, fish, soy, peanuts, tree nuts and milk ingredients.
Additional information
| | |
| --- | --- |
| Flavour | Natural Chocolate, Vanilla Bean |