SCITEC BIG BANG 3.0 (825g)
$62.95
Description
Scitec Big Bang 3.0
54 active ingredients in one complex formula? Yes! Scitec Big Bang 3.0 is a very strong, very complex pre-workout product that delivers 54 active ingredients without large amounts of carbohydrates! This product has been meticulously designed to support your body during physical activity, especially during high-intensity training. Our best, 5 component multi-creatine matrix (6230 mg) provides – among others – the most studied Creatine form ever! Creatine in this dose is scientifically proven to increase performance in successive bursts of short-term, high intensity exercise like weight training and intense interval cardio!*
5 TYPES OF CREATINES16 AMINO ACIDS •  L-CARNITINES • CAFFEINE AND GUARANA • AAKG AND CITRULLINE MALATE • BETA-ALANINE • CO-Q10 • AKG • RIBOSE • VITAMINS & MINERALS AND MORE!
Many of our key mineral and vitamin ingredients contribute to one or more of the following beneficial physiological effects*:
Normal muscle function
Normal functioning of the nervous system: neurotransmission and muscle contraction including heart muscle
Reduction of tiredness and fatigue
Normal energy-yielding metabolism
Normal amino acid/protein synthesis
Normal psychological function
Electrolyte balance
Choline contributes to normal homocysteine metabolism, to normal lipid metabolism and to the maintenance of normal liver function*.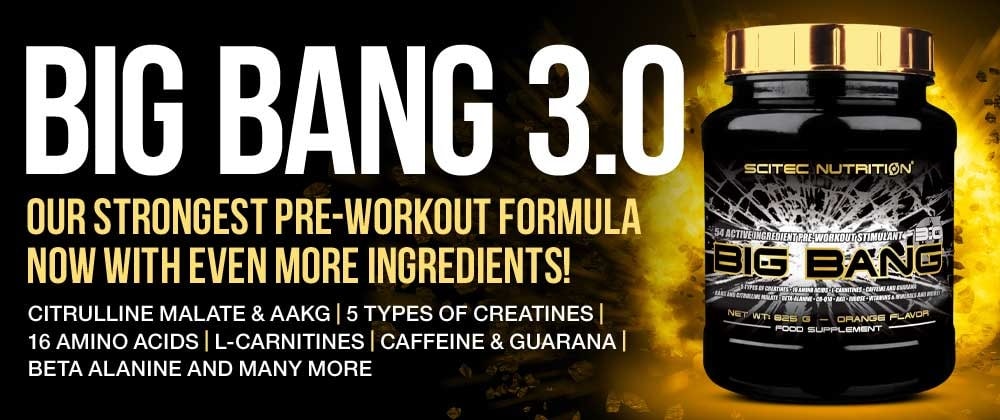 Directions:
Mix 1 serving (33 g) with 500 ml cold water daily. Use 30 minutes before training, preferably on an empty stomach. Individuals sensitive to stimulants should first assess tolerance by taking less than a full serving. Contains 350 mg of Caffeine per serving – do not take any other stimulants 4 hours prior and after ingesting BIG BANG!
Allergen info
Manufactured in a facility that processes milk, egg, gluten, soy, peanuts, nuts, celery, fish and crustacean ingredients.
Warnings
Contains Caffeine (350 mg per serving)! Not recommended for pregnant women and children! Beta-Alanine may cause a harmless, temporary tingling sensation on the skin for some individuals. Use this product in conjunction with food as part of a healthy, balanced diet, not as a substitute for such. Keep out of the reach of children! DON'T EXCEED THE RECOMMENDED DAILY DOSAGE!