SCITEC COLLA WHEY (560g)
$44.95
Description
Scitec Colla Whey
Scitec Colla Whey is a balanced, strong combination of high quality whey protein and hydrolysed collagen protein peptides, both of which have their unique features and strengths therefore complementing each other to support among others, your muscles and bones! We use  special Collagen Peptides, source of hydrolysed collagen protein that is specifically engineered to support your body and muscles, especially when engaged in training! This collagen protein is hydrolysed ('cut to pieces' already) therefore its digestion and utilization is great.
21 g protein per serving, mainly from whey!
7.5 g Hydrolysed Collagen Peptides!
No added sugar!
For growth and maintenance of muscles!
Supports the maintenance of normal bones!
Lactose Free!
Because sub-optimal or even fitness diets usually omit the consumption of organ meats, bones, connective tissue and prefer muscle meats and milk or plant proteins the intake of certain crucial amino acids is very low (e.g. Hydroxyproline). This is an imbalance that is helped by Collawhey in a 2-in-1 easy to use manner!
The high protein content of the product contributes to the growth and maintenance of muscle mass and to the maintenance of normal bones. It contains all the 9 essential amino acid types, which cannot be produced by the body and should be provided by food and nutritional supplements.
Collawhey contains a Lactase enzyme so it can be consumed by people who suffer from lactose intolerance!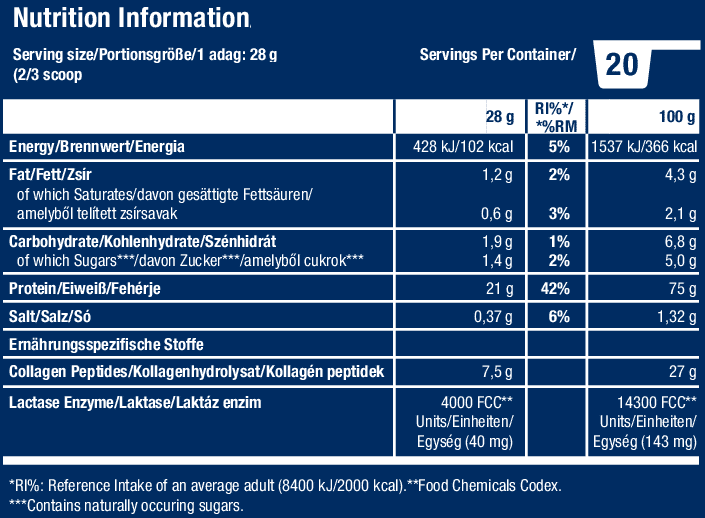 Directions:
Mix 1 serving (28 g) with 300 ml water daily.
Allergen info:
Manufactured in a facility that processes milk, egg, gluten, soy, peanuts, nuts, celery, fish and crustacean ingredients.
Warnings:
Use this product in conjunction with food as part of a healthy, balanced diet, not as a substitute for such. Keep out of reach of children. Don't exceed the recommended daily dosage!
Additional information
| | |
| --- | --- |
| Flavour | Chocolate, Vanilla |