THE GENIUS BRAND GENIUS BCAA (286g)
$59.95
Description
The Genius Brand Genius BCAA
The Genius Brand Genius BCAA is a powerful cognitive function support supplement that enhances memory, focus and cognitive function.*
Supports temporary relief from stress.*
Contains the patented ingredient Neurofactor which provides a unique profile of polyphenols that have been shown in clinical studies to stimulate the production of Brain-Derived Neurotropic Factor (BDNF), a key neuroprotein vital to learning , memory, and higher thinking.*

MORE THAN JUST BCAA POWDER – This all natural drink covers everything, focus & energy boosters make it a great preworkout for women and men! Fermented Vegan BCAAs make for healthy muscle recovery

MUSCLE RECOVERY AND MENTAL CLARITY – Proper Doses of vegan branched chain amino acids, rhodiola rosea, taurine and cognizin citicoline help boost focus, reduce stress and optimize yourself daily!

NATURAL AMINO ENERGY WITH STEVIA – If you're looking for an amino pre workout or healthy coffee substitute, rest assured this is an alternative with absolutely no artificial flavors, colors or dyes

PRE, INTRA OR POST WORKOUT – Think of it as a natural energy drink that happens to benefit lean muscle growth, memory and stress management! Genius BCAA is beneficial anytime of the day

STACK FOR FASTER FAT LOSS & LEAN MUSCLE GROWTH – Genius Products Are Best Together, Genius BCAA is meant for lean muscle building & healthy weight loss, combine with products like Genius Burn for quick results!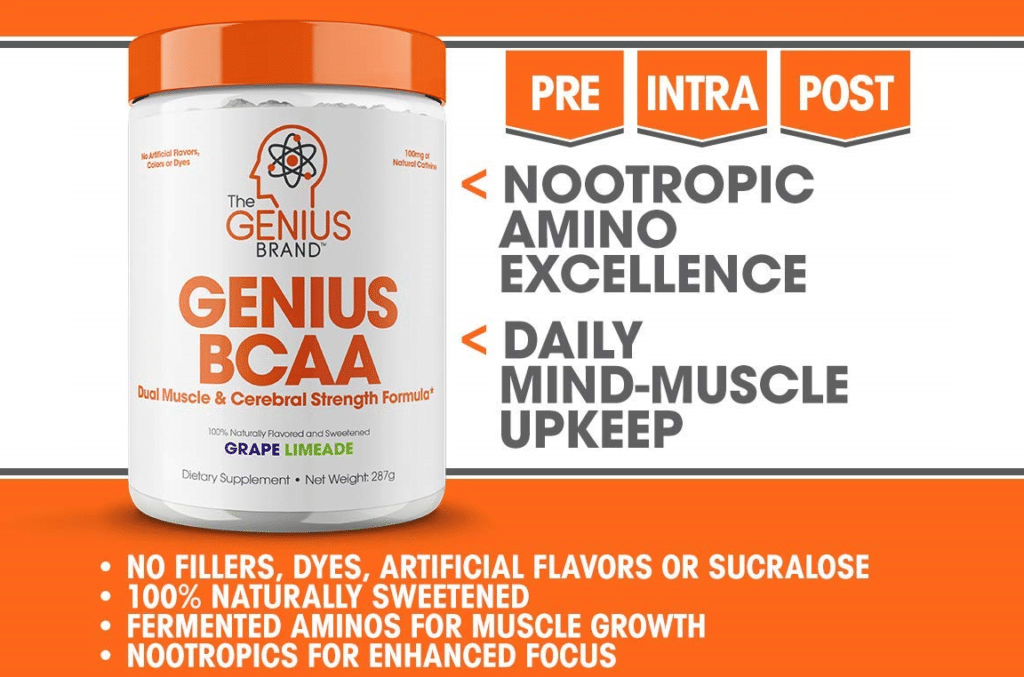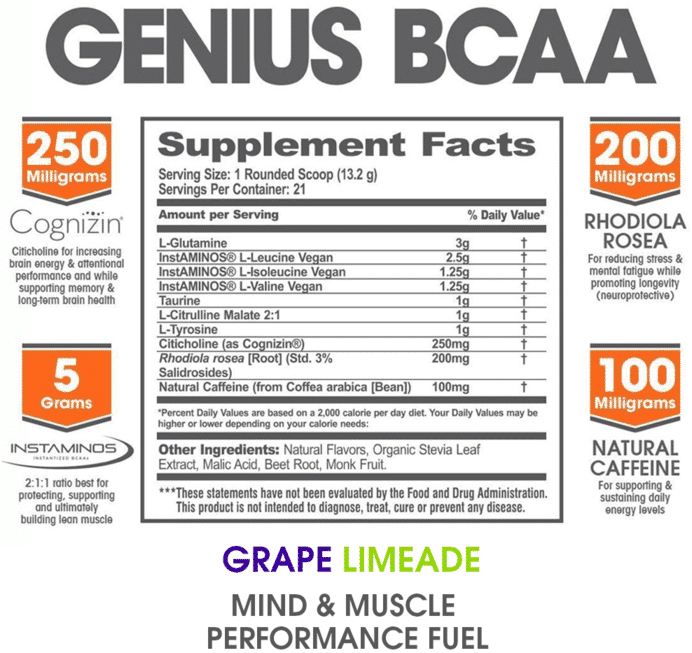 Directions:
Mix 1 scoop in 14-20oz of water (depending on personal preference for flavor). Genius BCAA makes for a great morning wake up, pre-workout, intra-workout, or an anytime focus + energy boost.
Warnings:
Check with a qualified healthcare professional before taking this product. Do not use if you are pregnant or nursing, under 18 years of age, taking medication or have a medical condition. Always begin use with 1/2 scoop or less and assess your tolerance. Once tolerance is assessed, take a maximum dose of 1 scoop. To avoid sleeplessness, do not consume within 6 hours of bedtime. KEEP OUT OF REACH OF CHILDREN. STORE IN A COOL, DRY PLACE. DO NOT USE IF SAFETY SEAL IS BROKEN OR MISSING.
Additional information
| | |
| --- | --- |
| Flavour | Power Orange, Grape Limeade |