THE GENIUS BRAND GENIUS HEART & CARDIOVASCULAR (60 Veggie Caps)
$69.95
Description
The Genius Brand Genius Heart & Cardiovascular
The Genius Brand Genius Heart & Cardiovascular Health Supplement – Cholesterol Lowering Vein & Blood Pressure Support w/Grape Seed Extract, Vitamin K2 MK7 & CoQ10 – Antioxidant Energy for Men & Women
Features:
BLOOD PRESSURE SUPPORT SUPPLEMENT – Avoid hypertension issues with our proven, all-natural grape seed extract; nature's treatment for high BP; our proven remedy boosts circulation providing vein support throughout the body
NATURAL CHOLESTEROL LOWERING PRODUCT – Maintaining a proper LDL/HDL ratio is extremely important to cardiac function & cardio vascular health; Genius Heart works as an LDL lowering supplement to stabilize healthy cholesterol
BREAK-THROUGH BRAIN BOOSTER SUPPLEMENT – Boost focus, mental clarity and reduce brain fog by improving cardiac function; the heart & brain are synergistic and with a healthy heart you'll find yourself w/ a boosted brain
NITRIC OXIDE (N.O.) FOR MEN & WOMEN – By safely elevating nitric oxide levels throughout the body, Genius Heart works to expand blood vessels providing healthy vein support while combating varicose (spider) veins
BOOST CARDIOVASCULAR ENDURANCE & PERFORMANCE – A strong heart boosts endurance by delivering more oxygen and nutrients throughout the body; boost anaerobic endurance with an improved cardiovascular system.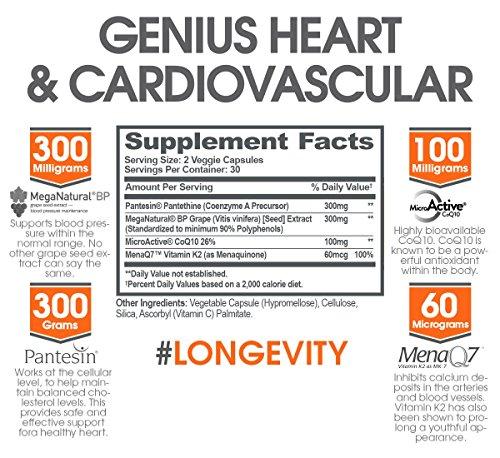 When & How to Use:
Heart health is something everyone needs to be concerned with, not just the elderly and inactive. With better cardiovascular system function comes increased energy, movement, cognition, and longevity. Consume one capsule twice daily with a meal.