THE GENIUS BRAND GENIUS MINDFULNESS (30 Veggie Capsules)
$45.95
Description
The Genius Brand Genius Mindfulness
The Genius Brand Genius Mindfulness is a powerful cognitive function support supplement that enhances memory, focus and cognitive function.*
Supports temporary relief from stress.*
Contains the patented ingredient Neurofactor which provides a unique profile of polyphenols that have been shown in clinical studies to stimulate the production of Brain-Derived Neurotropic Factor (BDNF), a key neuroprotein vital to learning , memory, and higher thinking.*

FIGHT STRESS & ANXIETY – In a world full of distractions, and endless pleasure at our finger tips it is more important than ever to be mindful and conscious of our mental health. This anti stress & anxiety supplement not only promotes relaxation but also adrenal fatigue & memory support.

INCREASE FOCUS & ATTENTION – With constant stimuli from technology more and more people find it hard to focus and lock in for long sustained periods of time. Genius Mindfulness is a Brain booster supplement that enhances mood, focus, and healthy aging.

GIVE YOUR ADRENALS A BREAK – Millions of Americans suffer from poor adrenal health and don't even know it. Symptoms include tiredness, trouble getting to sleep and waking up, craving salt and sugar, unexplained weight loss, reliance on stimulants such as caffeine, and nonspecific digestive problems. This product contains a trademarked version of Ashwagandha which helps reduce cortisol levels.

CALM THE MIND – The thoughts constantly occupying your mind throughout the day can be extremely powerful. It is important that everyone feeds their mind with positive and happy thoughts. This product helps boost mood, calm the mind and the body and allow you to simply be you. Your cell phone, social media, & the nightly news all take you out. It's time to be tap in and live life the way it was intended to. Be you. Be Mindful. Be Genius.

THE POWER OF BLUEBERRIES x10 – Genius Mindfulness acts additionally as an antioxident supplement thanks to the nutritional benefits of AuroraBlue's proprietary blueberry complex. Unlike competitors who may only use a blueberry extract to harvest the natural power of this fruit, AuroraBlue utilizes a whole berry concentrate.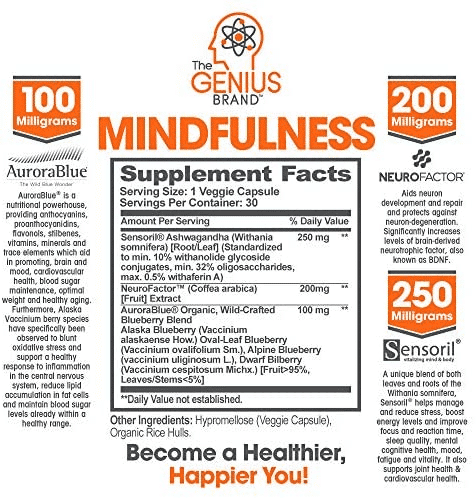 Directions:
As a dietary supplement take 1-2 capsules 1-3 times per day, 30 minutes before a meal. Stack with Genius Caffeine for amplified effect. Visit supplementsmarter.com for more information on customizable dosing and stacking.