TRADITIONAL MEDICINALS ORGANIC LICORICE ROOT (16 Wrapped Tea Bags)
$11.95
Description
Traditional Medicinals Organic Licorice Root
Only the finest organic licorice root available is sourced to make Traditional Medicinals Organic Licorice Root, the word "licorice" is actually a corrupted version of its original Greek named Glukurrhiza, which means, literally, "sweet root." Called "sweet stalk" in Sanskrit and "sweet herb" in Chinese, licorice is deeply loved around the world, not only for its signature sweetness, but for its role in supporting respiratory and digestive health.
This earthy root tea is easy to enjoy because licorice is simply lovable – and it is hard to find a more shining example of everything that makes licorice fine.
The sweet earthiness of licorice is unmistakable and is a result of a naturally occurring compound called glycyrrhizic acid. The presence of this compound is a marker of quality you can taste. Traditional Medicinals works closely with 14 collectors who sustainably wild collect the licorice root for this tea. For nine months of the year, they live and harvest from Kazakhstan's vast stands of wild licorice, which stretch as far as the eye can see.
Organic Licorice Root Herbal Tea Benefits:
May Soothe Digestive Tract

May Promote Respiratory Health

Sweet & Earthy

Certified USDA Organic
Non-GMO Project Verified
Kosher
Certified B Corporation
**These statements have not been evaluated by the Therapeutic Goods Administration. This product is not intended to diagnose, treat, cure or prevent any disease. Please consult a qualified professional before undertaking any health, fitness or dietary program.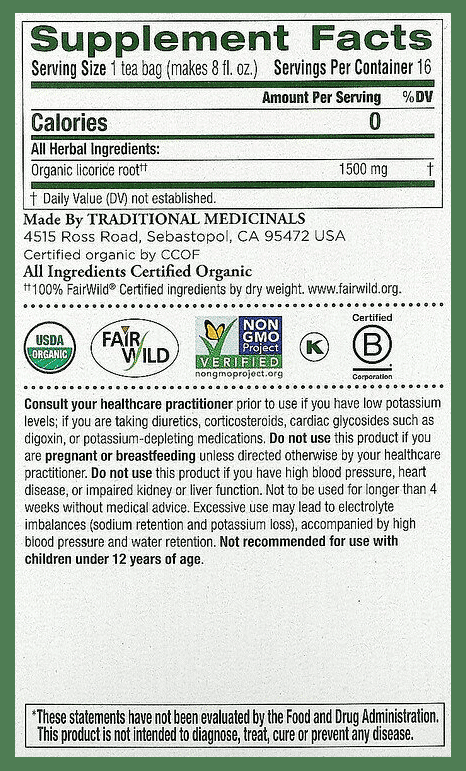 Suggested Use:
To Enjoy
Pour 8 oz. freshly boiled water over 1 tea bag.
Cover & steep for 10-15 min.
Squeeze tea bag to ensure maximum goodness.
Enjoy 1-3 cups per day.
Licorice Root tea should not be drunk daily for more than 4 weeks.
Other Ingredients:
All ingredients certified organic.
Warnings
Consult your healthcare practitioner prior to use if you have low potassium levels; if you are taking diuretics, corticosteroids, cardiac glycosides such as digoxin, or potassium-depleting medications. Do not use this product if you are pregnant or breastfeeding unless directed otherwise by your healthcare practitioner. Do not use this product if you have high blood pressure, heart disease, or impaired kidney or liver function. Not to be used for longer than 4 weeks without medical advice. Excessive use may lead to electrolyte imbalances (sodium retention and potassium loss), accompanied by high blood pressure and water retention. Not recommended for use with children under 12 years of age.