TWINLAB POTASSIUM CAPS (180 Capsules) 99MG
$39.95
Description
Twinlab Potassium Caps

When your diet doesn't supply enough potassium, Twinlab Potassium Caps are a practical way of supplementing this vital mineral when relying on potassium rich foods isn't feasible. Potassium is one of the major macro-mineral nutrients but since it's found principally in fresh unprocessed foods, most people don't get enough. Moreover, potassium is easily depleted from the body during episodes of significant fluid loss (such as vomiting or diarrhea) or the use of some medications. Potassium also helps with some types of fluid excess, primarily water retention due to excessive sodium intake. But the most common application for potassium supplements like Twinlab Potassium Caps is blood pressure support. Potassium is unusual in that the amount in supplements is limited to 99 mg in most circumstances, and is prescription-only in amounts higher than that.
Twinlab Potassium Caps provide a natural potassium dietary supplement. Each capsule contains 99 mg of potassium from potassium citrate and potassium aspartate. An electrolyte, potassium supports the proper function of all cells, organs and tissues in the body. It contributes to healthy heart activity as well as skeletal health and smooth muscle contraction, making it crucial for normal muscular and digestive function.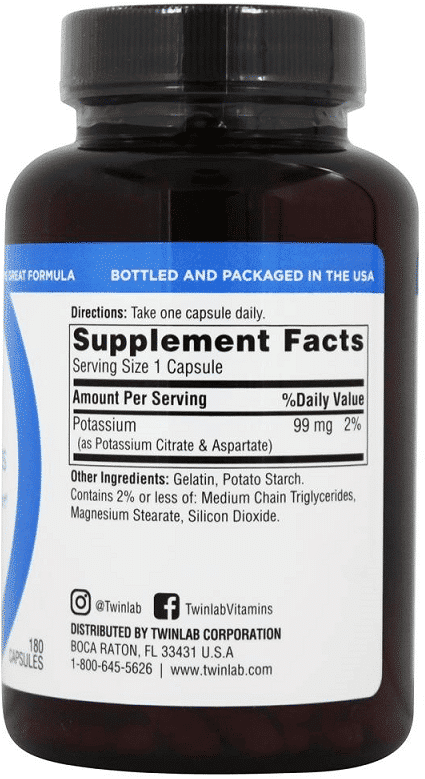 Warnings: Keep tightly closed in a cool, dry place. Keep out of the reach of children.
Notes: Does not contain: Tablet Binders, Coatings, Colorings, Corn, Soy, Yeast, Rice, Barley, Wheat, Lactose(Milk Sugar), Milk, Citrus, Fish, Egg Products, Added Flavorings, Sugars, Salt, Artificial Sweeteners, Colorings, Preservatives, Salicylates.
Recommended Use: As a dietary supplement, one capsule daily or as directed.