ULTIMATE NUTRITION MUSCLE JUICE 2544 (6kg)
$89.95
Description
Ultimate Nutrition Muscle Juice 2544 6kg
With Ultimate Nutrition Muscle Juice 2544 6kg used as part of your workout program you will:
Quite simply the most calorie-packed and best tasting weight gainer on the market today. With Muscle Juice(TM) 2544 you will grow Muscle with 55 grams of Ultimate Nutrition's special protein blend (Whey Protein Isolate, Whey Protein Concentrate, Calcium Caseinate, Egg White Albumen). This provides a 6 hour protein release so you muscles are constantly fed and nourished. GROW Muscle with 162 grams of Ultimate Nutrition's premium quality carbohydrate complex to fuel your body to obtain maximum possible growth. Grow Muscle with 17g of high performance fat containing MCT oil (Medium Chain Triglycerides) which support performance by increasing energy and cannot be stored as fat. MCT allows for a slow and steady release of energy and will not increase serum cholesterol levels.
Does your current weight gainer give you the following?
55 whey grams of protein per serving?
Whey protein concentrates and whey protein isolates as the first listed ingredients?
At least 4 different types of quality proteins, including whey, egg, and caseinate?
Over 13,000mg. (13g) of BCAAs per serving?
Over 10.9 grams of glutamine precursors per serving?
Over 1.4 grams of arginine?
Amazing taste?
If not, it might be time to switch immediately!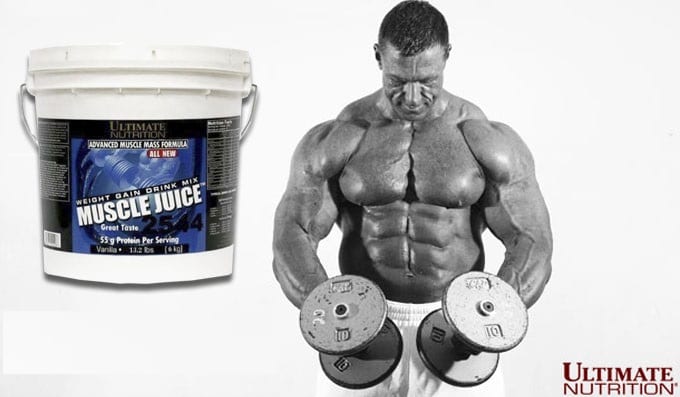 Supplement Facts
Serving Size: 4Scoops (250g)
Servings Per Container 24
Amount Per Serving In Water % Daily Value*
Calories 990
Calories From Fat 160
Total Fat 18g 28%
Saturated Fat 18g 90%
Trans Fat 0g
Cholesterol 150mg 50%
Sodium 115mg 5%
Total Carbohydrates 152g 51%
Dietary Fiber 0g 0%
Sugars 60g
Protein 55g 110%
Vitamin A 0%
Vitamin C 0%
Calcium 40%
Iron 8%
Typical Amino Acid Profile: Essential Amino Acids L-Leucine 6112mg
L-Isoleucine 3548mg
L-Valine 3417mg
L-Lysine 5122mg
L-Threonine 4187mg
L-Methionine 1223mg
L-Phenylalanine 1925mg
L-Tryptophan 894mg
Non-Essential Amino Acids L-Arginine 1485mg
L-Aspartic Acid 6346mg
L-Cystine 1300mg
L-Alanine 2929mg
L-Glutamic Acid 10973mg
L-Glycine 1100mg
L-Histidine 1011mg
L-Proline 3548mg
L-Serine 3039mg
L-Tyrosine 1753mg
* Percent Daily Values are based on a 2,000 calorie diet. Your daily values may be higher or lower depending on your calorie needs
Other Ingredients
Protein Blend (Whey Protein Concentrate, Premium Whey Protein Isolate, Calcium Caseinate, Egg White Albumin), Maltodextrin, Crystalline Fructose, Cocoa, Medium Chain Triglycerides, Soy Lecithin, And Natural & Artificial Flavors
Contains Milk, Egg And Soy.
Directions: Add four scoops of Muscle Juice (250g) to 18 ounces of water or milk. Mix.
Additional information
| | |
| --- | --- |
| Flavor | Cookies'N'Cream, Strawberry, Vanilla |