Sale!
Universal Animal Deluxe Stack (3 Bottle Combo Pack)
Description
Universal Animal Deluxe Stack
This Universal Animal Deluxe Stack Includes a combination of the 3 most Anabolic / Testosterone / Pump products Animal has to offer. Its scientifically engineered to deliver the most powerful anabolic testosterone-boosting ingredients on the market today to stimulate free testosterone, maintain peak testosterone-to-cortisol ratio and enhance training performance and build muscle!
Universal Animal M-Stak
Universal Animal M-Stak is the ultimate non-hormonal anabolic stack that has been created especially for hardgainers. The unique blend of amino acids and flavones provide a natural alternative to enhanced protein synthesis for increased muscle gain, and provides powerful antioxidant properties that help reduce inflammation and promote healthy arteries.
Animal M-Stak helps with increased nitrogen, reduced body fat, and enhanced pumps & muscle growth without impacting hormonal health.
HOW CAN ANIMAL M-STAK BENEFIT YOU?
Hormonal support
Animo acids for recovery
Advanced nutrient delivery
Promotes protein synthesis
Utilising an approach founded in Eastern European science, the natural flavone and sterone blend enhances the uptake and utilisation of key anabolic proteins for muscle growth.
Stacked with anti-cortisol and muscle building amino acids, M-Stack also combines key ingredients designed to increase insulin sensitivity and improves the utilisation of carbohydrates on a daily basis.
Universal Animal Pump
We chase the pump, just as much as you do. On the weight room floor, it makes us feel alive. It made us fall in love with the iron in the first place. There's nothing quite like it. And it was the pursuit of that feeling that motivated us to formulate Universal Animal Pump.
The "pump" is perhaps the most important physiological process as it relates to the bodybuilder and the pursuit of muscle-building. Not only is it the gratifying feeling of skin-tearing fullness that keeps iron athletes returning to the gym day after day, it is also the means by which oxygen and nutrient-rich blood engorges working muscle, feeding it so that it can grow. Not only does it make you look bigger, blowing up the target muscle group like a balloon, it actually makes you bigger, triggering the process of anabolism.
This process of muscle volumization is critical to muscle growth. With Animal Pump, we at Animal designed a formula specifically to "up the volume" while improving performance. Animal Pump was the first encapsulated pre-workout formula that contained a full daily dose of advanced creatines in each pre-dosed pack, fortified by vasodilation ingredients intended to maximize the pump by boosting nitric oxide (NO) production.
One of the standout points of differentiation for Animal Pump is that it is one of the very few encapsulated pre-workout formulas, for those who tire of the traditional powdered drink mixes. Consequently, for those sensitive to caffeine or those who train at night, Animal Pump provides all of the stimulants in its formula in a single, easy-to-identify red capsule, further setting it apart from the competition. Leave the stims in, or take them out and save them for later. The choice is yours. That's flexibility you rarely find in traditional bodybuilding supplementation.
Easy to use, convenient to carry in your pocket or gym bag, Animal Pump delivers in the gym, every time. Blowing up your muscles and helping you destroy the weights, there's no feeling quite like it. Animal Pump… It's the pump, in a pack.
Universal Animal Test
Universal Animal Test is the ultimate in muscle-supporting, testosterone-supporting supplementation. Combining the most powerful natural extracts with one of the hottest, patented, research-backed supplements to hit the industry in recent years, the all new Animal Test redefines the capabilities of bodybuilding supplementation.
One portion of the Universal Animal Test formula couples dynamic herbal extracts designed to support free and total testosterone with compounds for promoting a healthy estrogen balance capable of maximizing the natural anabolic response. Translation? Explosive gains in strength and size. This complex includes the revered free test potentiator 3-4 divanillyl tetrahydrofuran. Divanillyl is a lignan extracted from stinging nettle suggested to support natural hormone levels. In high enough dosages, like the one contained in Animal Test, Divanillyl supports the enhanced activation of free testosterone which promotes gains in strength and size as well as supporting focus, recovery and gym performance.
Animal Test is also loaded with anabolic ketosterones extracted from Cissus Quadrangularis—another exciting new bodybuilding ingredient. These ketosterones have been revered for promoting anabolism and boosting recovery. Beyond these obvious muscle and strength building properties, cissus has also been touted as an antioxidant capable of supporting joint and ligament health, a side benefit worth noting for individuals making dramatic gains in size and strength over a short period of time.
In order to capitalize on the support of utilizable testosterone provided by these ingredients, Animal Test comes fully equipped with a combination of cutting edge ingredients to help support a healthy estrogen balance. First among these is the ultra antioxidant Trans Resveratrol. Trans-Resveratrol acts like a shield.
In summary, these constituents may help to block circulating estrogen from reaching receptors as well as negating the inevitable estrogen boost brought about by supporting testosterone production, thus directly and indirectly promoting a higher ratio of circulating serum testosterone. Both components of the Pro-Androgen complex are assured for utmost efficiency and uptake through the inclusion of 6',7'-Dihydroxybergamottin and patented Bioperine—the very best absorption-enhancing ingredients available today.
The final and perhaps the most dramatically powerful element of the new Animal Test formula is the inclusion of the highly heralded, suggested and patented hypertrophic agent, Arachidonic Acid (AA). Backed by university research studies and real world testimonials, AA has taken the bodybuilding world by storm—and for good reason.
Arachidonic Acid has multiple benefits for the hard training bodybuilder, the most dramatic of which are the ability for it to enhance androgen receptor sensitivity and to amplify training related muscle inflammation and in turn support muscle growth. AA is an essential fatty acid that sits at the very core of the body's physiological response to weight training.
When lifting weights, muscle fibers are damaged and AA is released. Its release alters local chemistry, which supports a shift that favors anabolism. The general anabolic cascade begins with the release of AA and is greatly amplified in the presence of more AA. This translates into supporting androgen receptors (increasing testosterone sensitivity), heightened IGF-1 signaling, greater vasodilation and even enhanced lipolysis. The availability of AA appears to dictate how strongly this anabolic cascade will be stimulated with training.

Universal Animal M-Stak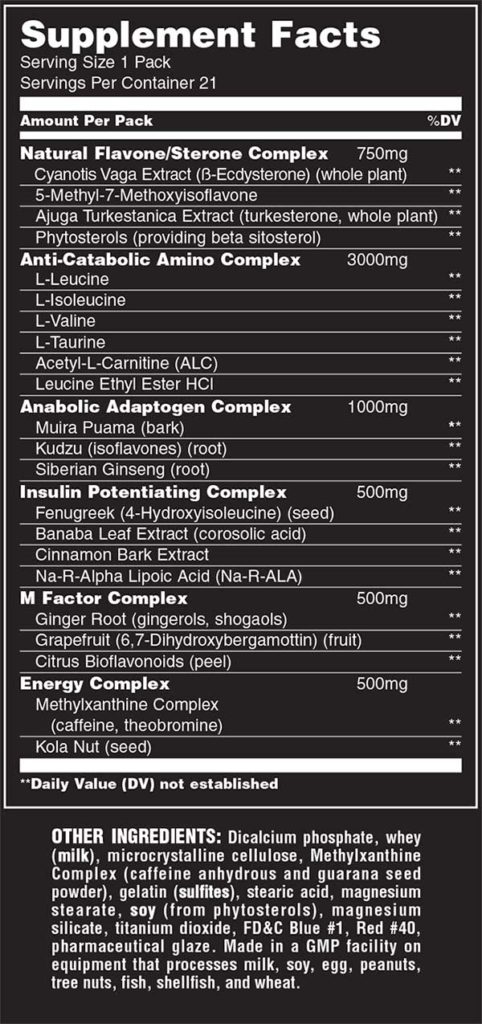 Directions:
Take a pack every day for 21 days straight. On training days, take it 30 – 45 minutes before lifting. On off days, take it between meals. Cycle Animal M-Stak for best results. Three weeks on, three weeks off. Repeat as needed. The entire Energy Complex (Stims) is contained in the Red capsule. Remove it as you see fit.
Universal Animal Pump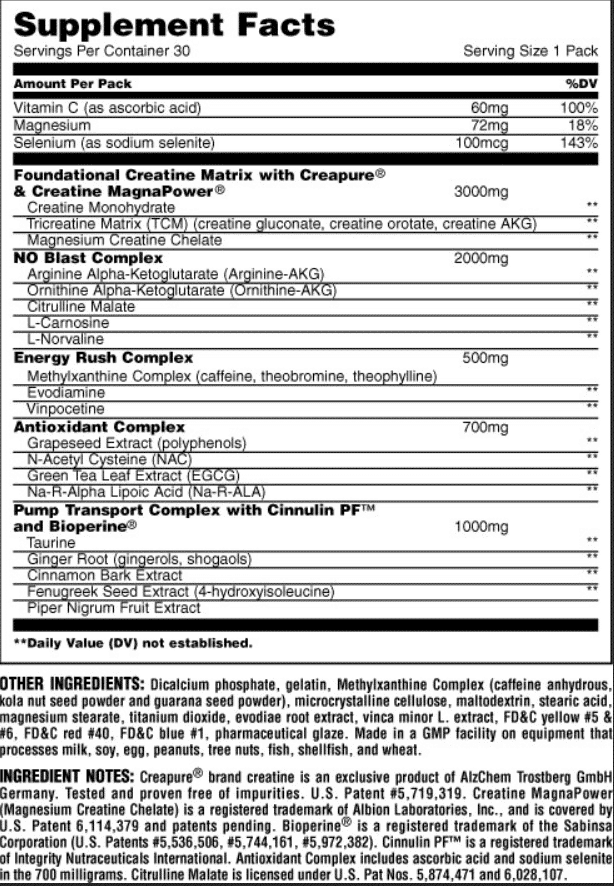 Directions: Take 1 pack 30 minutes prior to training, preferably on an empty stomach.
Universal Animal Test
Directions: Take a single pack every day for 21 straight days. On training days, take the pack with the last meal before you work out. On off days, just take the pack with any meal. Animal Test works best along intense training and an increase in quality protein and calories. Make sure you stay hydrated on this cycle. Unlike other "cycled" Animal products, you can use Animal Test for two consecutive cycles— without an "off" week—for a total of 42 straight days. After this double cycle, take a full 4 weeks off. During this period, we recommend using Animal M-Stak to help preserve your lean mass gains.