VPX REDLINE MAX 300 RTD (74ml)
$3.55
Description
VPX Redline Max 300 RTD
VPX Redline Max 300 RTD Gives you 7 Hours of energy
VPX Redline is refined formulation for use before training, which includes a positive effect not only on the level of power to operate, but also on the capacity of muscles, resulting in longer and more intense training sessions.
The formula of the product was based on the active ingredients of the highest quality! It includes the addition of essential vitamins and mineralsthat provide quick replenishment of lost electrolytes in sweat. Please note the correct level of influence on the obtained results, and fully functional motor muscle tissue.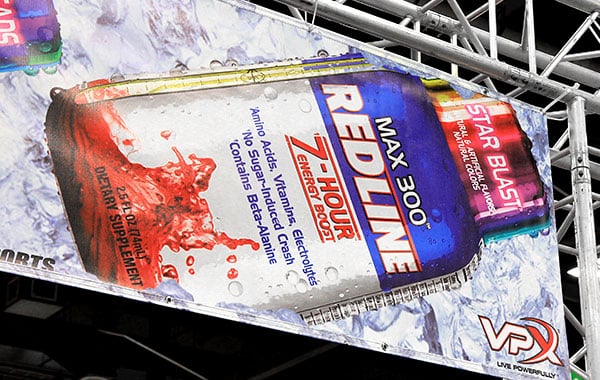 Supplement Facts:
Serving Size: 1/2 Bottle (37 ml.)
Amount Per Serving:
Calories 6
Total Carbohydrate 1.46g
Sugars 0g
Sugar Alcohol 1.46g
Niacin (Niacinamide) 10mg 50%
Vitamin B6 (Pyridoxine HCI) 1500mcg 76%
Folate (as folic Acid) 40mcg 10%
Vitamin B12 (Methylcobalamin) 12mcg 500%
Electrolyte Matrix
Calcium (as Calcium Chloride) 10mg 1%
Magnesium (as Magnesium Chloride) 5mg 1%
Sodium 11mg 0%
Potassium (as Potassium Citrate Monohydrate) 35mg 1%
Proprietary Blend 575mg
Caffeine Anhydrous 300mg
N-acetyl-L-Tyrosine
Beta-Alanine
Other Ingredients:
Highly purified water, glycerin, malic acid, natural & artificial flavours, potassium phosphate dibasic, sucralose, sodium benzoate and potassium sorbate (preserve freshness), and calcium disodium EDTA.
Allergens: Manufactured in a facility that processes milk, egg, shellfish, tree nuts, peanuts, wheat and soy.
Recommended Use:
Always begin use with half (1/2) of a bottle of Redline to assess tolerance. Never exceed more than one full bottle daily.
Warnings:
Do not use this product if you are pregnant, nursing, or have a medical condition. This product contains 300 mg of caffein which is less than 3 cups of coffee. Limit your total caffein intake to 400 mg or less per day. Intended for use by healthy individuals only. Not recommended for use by individuals under 10 years of age.
Additional information
| | |
| --- | --- |
| Flavor | Exotic Fruit, Peach Mango |