WHITE WOLF ZEN (280g) MAGNESIUM + MUSHROOM BLEND
$58.95
Description
White Wolf ZEN
White Wolf ZEN is the ultimate well being product that is perfect for everyday stress relief and cortisol reduction with the added benefit of being an amazing sleep formula giving you the ultimate feeling of ZEN!
Zen is formulated to assist with the reduction of Cortisol, which is the stress hotmone. The problem with Cortisol is it not only causes you to feel stressed, but it also inhibits your body's natural ability to lose weight and gain strength. So not only is ZEN formulated to help with stress & sleep, it is perfect for post-exercise. Zen also help with muscle gain and fat reduction.
Key Zen Ingredients & Benefits
Ashwagandha – 1500mg: Reduces stress and anxiety symptoms and may also help with mood and increased mental capacity. Shown to provide a reduction in cortisol in stressed individuals and a reduction in insomnia and anxiety-related issues.
MACA – 1500mg: Lepidium meyenii or Maca has long been known to assist in improving mental wellbeing and mood by reducing anxiety levels. May also improve athletic performance, particularly endurance.
Cordyceps – 750mg: May Improve Athletic performance by increasing ATP production. May improve heart health and reduce LDL or bad cholesterol. May decrease inflammation.
Rhodiola Rosea – 500mg: Increased resistance to stress and reduce stress markers Reduced risk of burnout. Reduced fatigue and improved attention. May reduce insomnia. May improve exercise function by reducing perceived exertion levels.
L-Theanine – 100mg: Improved anxiety and promotes stress relief. Increased focus.
Withania somnifera
Vitamin C
Magnesium citrate
Cordyceps sinesis
Vitamin B5
Lepidium meyenil
Activated viamin B6
Siberian ginseng
Xylooigosaccharides
**These statements have not been evaluated by the Therapeutic Goods Administration. This product is not intended to diagnose, treat, cure or prevent any disease. Please consult a qualified professional before undertaking any health, fitness or dietary program.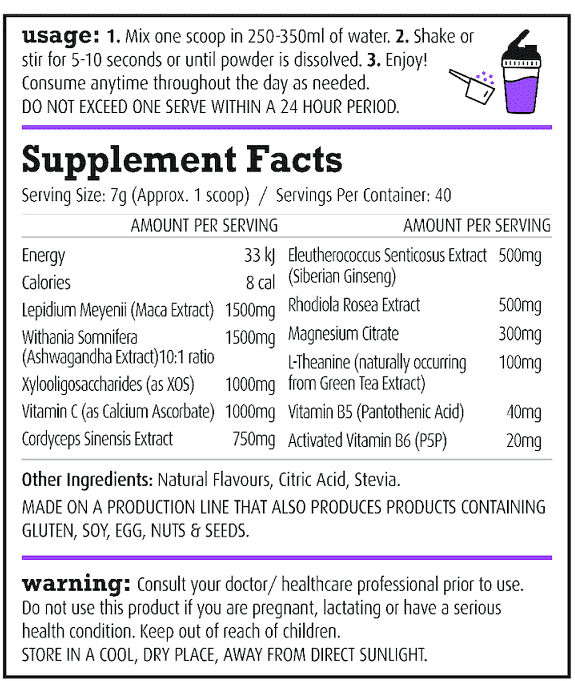 Usage: 1. Mix one scoop in 250-350mL. 2. Shake or stir for 5-10 seconds or until powder is dissolved. 3. Enjoy! Consume anytime throughout the day as needed.
DO NOT EXCEED ONE SERVE WITHIN A 24 HOUR PERIOD.