X50 GREEN TEA VITA MATCHA (60 x 3g)
$49.95
Description
X50 Green Tea Vita Matcha
X50 Green Tea Vita Matcha is taking our regular Green Tea X50 to the next level, with new flavours and new active ingredients. Our latest addition is super-refreshing, super-hydrating and provides clean energy as well as a rush of antioxidants in every sachet!
X50 Green Tea Vita Matcha is a bit of a show-off in its cute shiny box, but this product is more than a pretty face. It's packed with polyphenols, found in green tea and matcha tea, which are busy antioxidants that boosts your metabolism, promotes radiant glowy skin and improves gut health by balancing the good bacteri
We can't forget about the other hard-working active ingredients; Vitamin B and Magnesium. Vitamin B is a goody as is helps turn carbs into fuel for your body and keeps you energised. Which is totally important if you dragged yourself out of bed to go to the gym and you want to get the most out of your workout. Magnesium is perfect for reducing muscle recovery, because you just smashed that workout from all your energy, remember?
Decision-making can be hard sometimes, (we've all experienced that panic at the nail salon, right!?) so we crammed all the best new flavours into one box! Acai Berry, Pomegranate and Mango. Nothing but variety for your taste buds, and they'll love you for it.
Accelerated Weight Loss Program: Each pack of Green Tea X50 comes FREE with access to the full Accelerated Weight Loss Program (AWLP). The AWLP is a comprehensive guide to healthy eating and exercise including healthy recipes, meal plans and lifestyle tips.
NEW flavours and NEW active ingredients.
Contains active ingredients Green Tea, Matcha, Magnesium and Vitamin B
Naturally occurring caffeine for clean energy
Boosts metabolism, burns fat and detoxes the body
Potent polyphenol formula promotes inner wellness, gut health and radiant glowy skin
Less than 10 calories per serve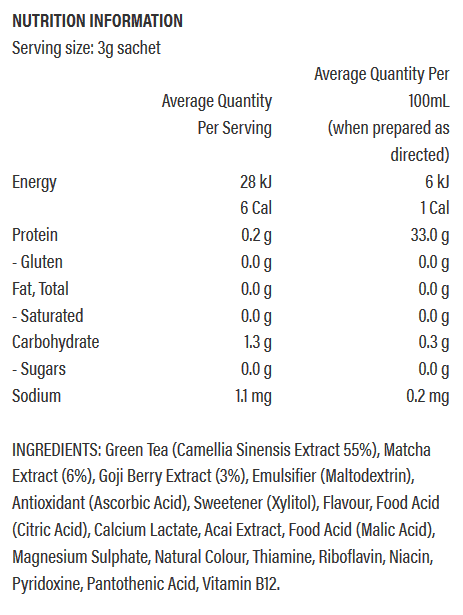 Directions:
Mix one sachet (3g) in 500mL of super chilled water depending on your taste buds! You can even mix with coconut water, sparkling mineral water or put it in smoothies! Take one sachet daily to maintain general well being.
Do not use if seal is broken. Store below 30°C in a cool, dry place.
Contains approx. 84 mg of caffeine, the equivalent of an instant coffee*