Sale!
YUMMY SPORTS ANGRY UNICORN X 3 (3 For Price Of 2)
$170.85
Description
Yummy Sports Angry Unicorn x 3
Experience true unicorn results with Yummy Sports Angry Unicorn x 3. Now, the extreme sensory effects you demand can be felt instantly with this unique pre-workout powder. Angry Unicorn contains dynamic and unique sensory ingredients and delivers an electrifying sensation designed for hardcore demands, hardcore intensity and most importantly, hardcore energizing results.
Yummy Sports Angry Unicorn Key Points:
Intense Pre Workout
Amplify Energy and Focus
Contains Citrulline Malate for enhanced muscle pumps
200mg of Caffeine-
Available in 2 Yummy Flavours
Yummy Sports Angry Unicorn Key Ingredients:
1-(4-Aminobutyl)guanidine sulfate (Agmatine Sulfate)– Agmantine Sulfate raises the nitric oxide levels which coan enhance muscle pumps during workout.
1,3,7-trimethylxanthine (Caffeine)– is the most effective and safest natural stimulant in a fat burner. It speeds up the metabolism and boosts energy.
2-aminoethanesulfonic acid (Taurine)– helps boost fat loss, improve insulin sensitivity, increase testosterone levels, ramp up endurance, and improve cardiovascular health.
L-Citrulline DL-malate– proven to enhance your muscle pumps when dosed correctly. It also has the ability to decrease in muscle fatigue.
Glycine– is an amino acid that's shown to improve the quality of your sleep, as well as your cognition.
Citrus aurantium extract–  is an orange, sometimes green, sphere shaped fruit covered in thick skin. It gives your body a quick "boost" of energy as well as rev up your metabolism to assist your fat-fighting efforts without the undesirable effects of ephedra-based supplements.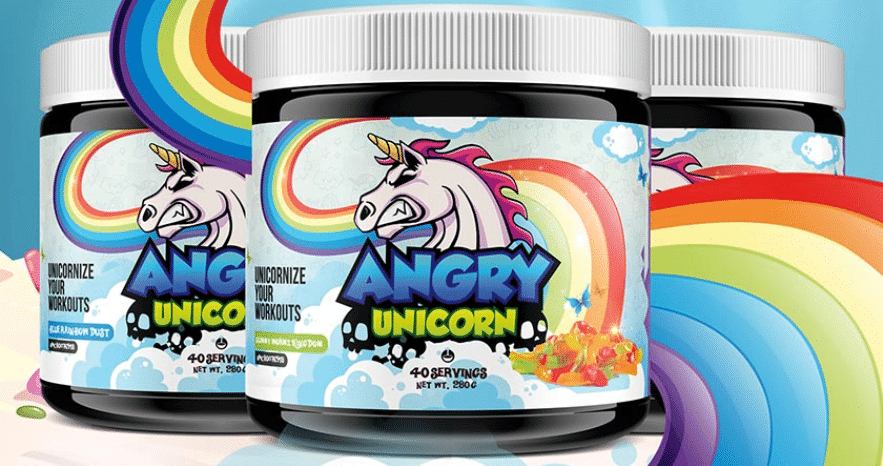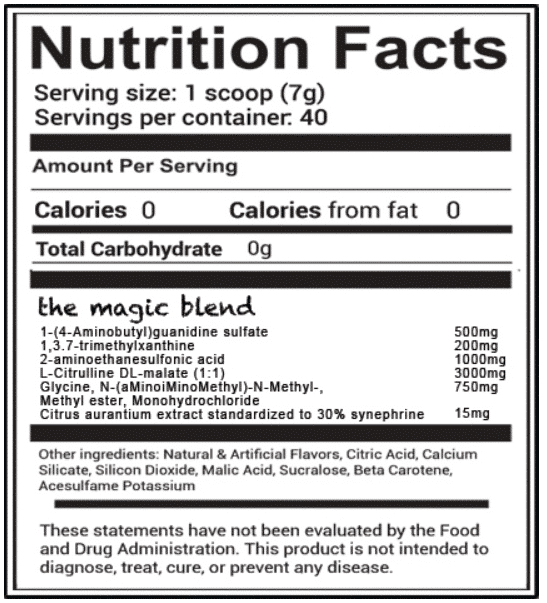 Suggested Usage :
Consume 15-30 minutes prior your workout. When you start feeling a horn growing on your forehead, it means the pre workout just kicked in!
Mix one scoop with 250ml of water and mix thoroughly in a shaker cup until powder has fully dissolved. Do not exceed one scoop.
Additional information
| | |
| --- | --- |
| First Flavor | Blue Rainbow Dust, Gummy Wormi Kingdom, Psychedelic Berries |
| Second Flavor | Blue Rainbow Dust, Gummy Wormi Kingdom, Psychedelic Berries |
| Third Flavor | Blue Rainbow Dust, Gummy Wormi Kingdom, Psychedelic Berries |