BSN TRUE MASS 1200 (4.65kg)
$99.95
Description
BSN True Mass 1200
BSN True Mass 1200 is the Ultimate Mass Gainer engineered for the true hard-gainer in need of serious caloric support. TRUE-MASS® 1200 features a 4:1 ratio of carbohydrates to protein, with 215 grams of a unique complex carbohydrate blend that includes ground whole oats and 50 grams of BSN®'s signature protein formula along . Plus, the formula includes 12 grams of naturally occurring BCAAs and 25 grams of EAAs per serving along with added dietary fiber and Medium Chain Triglycerides to round out the nutritional value of each shake. Used post-workout, between meals and/or before bed, TRUE-MASS® 1200 can fuel your recovery from heavy training while providing the nutrients your body needs to keep on building
Gain with the Best of Them!
BSN True Mass 1200 features signature ultra-premium protein formula to feed an athlete's muscles with the essential protein building blocks.* The unique carbohydrate blend provides the caloric support necessitated by extreme physical exertion, helping the body prepare for and support recovery from intense training.* Healthy fats supply quick-burning fuel to satisfy the serious athlete's energy demands.* And all these high-quality ingredients come delivered with BSN®'s exclusive flavor technology, producing one of the most mouth-watering mass-gaining shakes on the market.
BSN®'s PROTEIN POWDERS VS. TRUE-MASS® 1200
BSN®'s protein powders, such as Syntha-6® and Syntha-6® Isolate, are comprised primarily of protein and contain only small amounts of fats and carbohydrates, while staying under approximately 200 calories per serving. These protein powders are recommended to supplement regular protein intake through-out the day and as a post workout recovery shake. While TRUE-MASS® 1200 is used for these applications as well, due to its high protein, carbohydrate and calorie count, this Ultimate Mass Gainer is geared towards athletes who require an above normal caloric intake or who have a hard time meeting their caloric intake in a given day.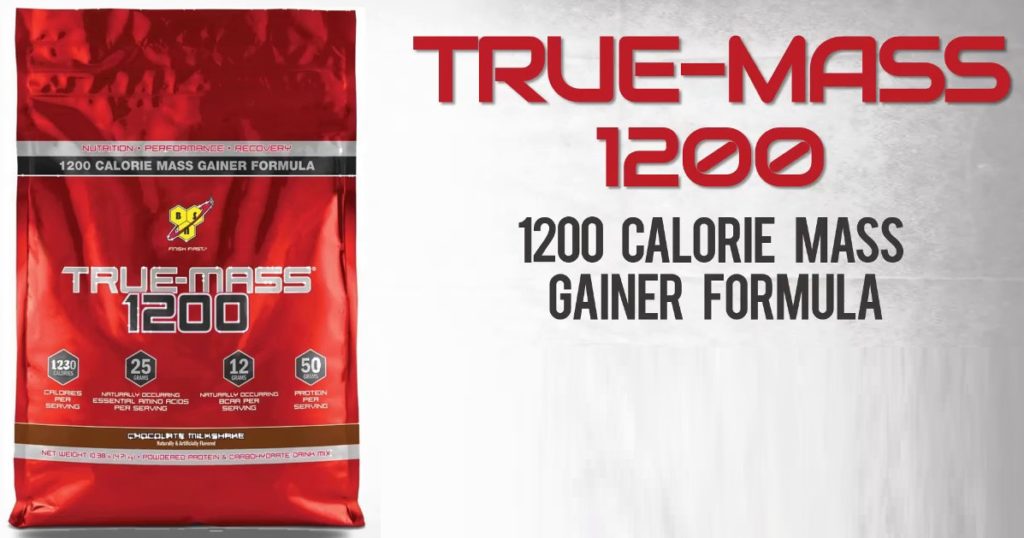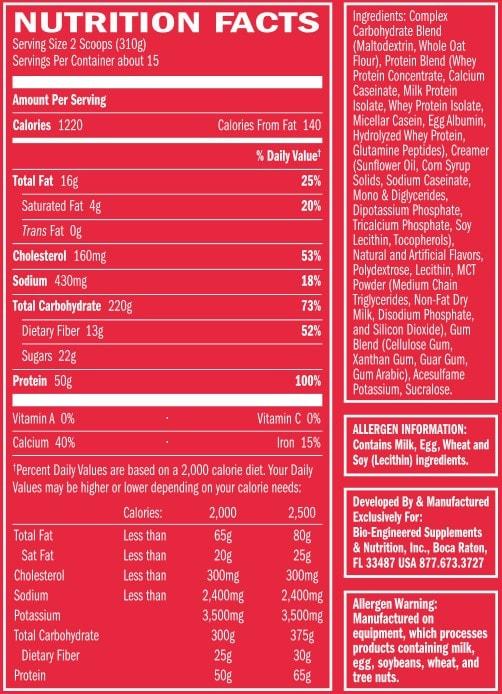 Directions For True Mass 1200: Mix 2 scoops with 16 oz. of cold water or any beverage of your choice. Vary the amount of liquid to achieve your desired consistency. Drink 1 serving daily, or as needed to satisfy your protein or mass-gaining requirements. To increase your protein and calorie intake per serving to achieve an amazing milkshake taste, use milk.
Warnings: Intended for use by healthy adults. Consume as part of a healthy diet and exercise program. Keep out of reach of children and pets. Store in a dry place away from direct sunlight.
Additional information
| | |
| --- | --- |
| Flavour | Chocolate Milkshake, Vanilla Ice Cream |