Controlled Labs Orange Triad (270 Tablets)
$69.95
Description
Controlled Labs Orange Triad
Controlled Labs Orange Triad is a premium, twice daily multivitamin supplying a full spectrum of vitamins, minerals, herbs and enzymes optimized specifically for athletes and bodybuilders. In addition to the vitamins and minerals, you'll find a joint support blend, a flexibility and mobility support matrix and a digestion & immune blend. Each blend has been carefully fine-tuned to provide the most complete support for those who train hard consistently and need reliable recovery.
Orange Triad's Joint Complex contains a large dose of both glucosamine and chondroitin sulfate, shown to facilitate cartilage repair and reduce unhealthy joint inflammation. The Flex Complex contains MSM and hyaluronic acid, two natural ingredients that work to pull extra water into the joints, increasing flexibility and mobility as well as improving blood flow to joints and muscles. Lastly, Orange Triad's Digestion & Immune Complex contains herbs and botanicals rich in natural plant enzymes supporting complete digestion and enhanced nutrient absorption. This allows your body to completely break down carbs & fat and utilize more protein amino acids. The antioxidant rich berry extracts aid in protecting the immune system and promoting overall health so you can train longer, harder and recover faster.
If you're looking for an ultra-premium sports multivitamin to assist in muscle recovery, immune support, joint repair, immune support and overall health, look no further than Controlled Labs' Orange Triad.
Orange Triad Description from Controlled Labs ORANGE TRIAD combines the most proven and effective vitamins, minerals, and nutrients for supporting optimal DIGESTION, IMMUNE system, and JOINT HEALTH into one "twice daily" dietary supplement. Key Attributes: Iron Free, 45 servings, All-in-one solution, Optimize results from training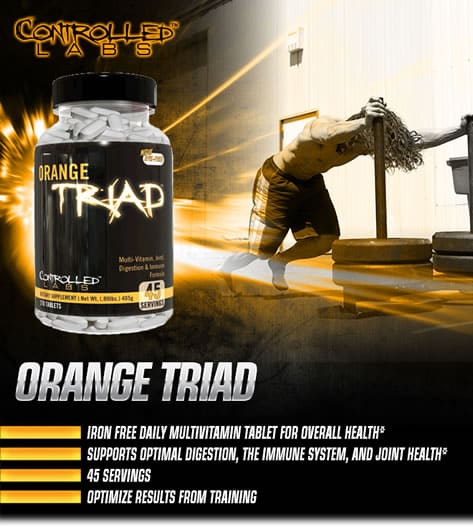 Supplement Facts
Serving Size: 6 tablets
Servings Per Container: 45
Ingredient Amount % Daily Value**
Vitamin A 10000IU 200
Vitamin C 500mg 833
Vitamin D 1000IU 250
Vitamin E 200IU 670
Vitamin K 120mcg 150
Thiamine 30mg 2000
Riboflavin 30mg 1765
Niacin 100mg 500
Vitamin B6 30mg 1500
Folic Acid 400mg 100
Vitamin B12 500mcg 8333
Biotin 300mcg 100
Pantothenic Acid 100mg 1000
Calcium 250mg 25
Phosphorus 60mg 5
Iodine 255mcg 170
Magnesium 100mg 25
Zinc 30mg 200
Selenium 200mcg 290
Copper 500mcg 25
Manganese 3mg 150
Chromium 25mcg 21
Molybdenum 50mcg 70
Potassium 50mg 1
Vanandium 10mcg †
Boron 500mcg †
Joint Complex 2000mg †
-Glucosamine Sulfate and Chondroitin Sulfate
Flex Complex 2550mg †
-MSM, Bromelain and Hyaluronic Acid
Digestion and Immune Complex 1275mg †
-Echinacea Purpurea, Ginger Extract, Quercetin, R-Alpha Lipoic Acid, Giant Knotweed, Bilberry
-Blueberry Extract, Pomegranate, Grape Seed Extract, Raspberry Seed, Lycopene, Lutein
** Percent Daily Value is based on a 2000 calorie diet. Your daily values may be higher or lower depending on your calorie needs.
† Daily Value not established.
Contains: shellfish (shrimp, crab, and/or lobster), soy.
Manufactured on equipment which processes products containing milk, egg, wheat, soybeans, shellfish, fish oil, tree nuts, and peanuts.
Ingredients:
Other ingredients: stearic acid, magnesium stearate, croscarmellose sodium, microcrystalline cellulose, silicon dioxide, hydroxypropyl methylcellulose, and polyethylene glycol.
Directions
Start by taking 1 tablet to assess your individual tolerance. If you experience any unusual occurrence, stop and consult your doctor.
Take 3 tablets TWICE per day with meals. Take this product daily. Consume at least 1 gallon of water per day.