Muscletech Nitro Tech Whey Protein (680g)
$44.95
Description
Muscletech Nitro Tech Whey Protein
Muscletech Nitro Tech Whey Protein is a scientifically engineered whey protein formula that is enhanced with the most studied form of creatine for even better gains in muscle and strength. It also features whey protein, which is the most popular type of protein. Whey protein is made up of branched chain amino acids (BCAAs) and essential amino acids (EAAs) and has the highest biological value (the measure of how well your body absorbs and assimilates protein). The whey protein in NITRO-TECH is sourced primarily from whey peptides and whey isolate – two of the cleanest and purest protein sources available. Using these proteins on a daily basis is vital in helping to increase muscle protein synthesis for more muscle size and strength. NITRO-TECH® is designed for all athletes who are looking for more muscle, more strength and better performance.*
BEST-IN-CLASS TASTE*
At MuscleTech®, we believe that you shouldn't have to sacrifice macronutrients for taste. That's why our research team works closely with some of the top protein-flavoring professionals in the world, and each flavor of NITRO-TECH® undergoes rounds of taste testing until perfected.*
The result is a great-tasting formula that doesn't pack the extra sugar and carbs you'll see in other protein powders. This gives you more protein per scoop and a better overall macronutrient profile. In fact, each scoop of NITRO-TECH® contains 30g of protein, with only 4g of carbs, depending on the flavor, and no more than 2.5g of fat!*
We partnered with a leading flavoring lab to create the best taste experience. Their proprietary freeze-dry technology exposes the protein molecules to lower temperatures compared to our competitor's blast of heat. This delicate process results in the best mixability, smell and taste. It's a science you can trust, and your taste buds will love.*
100% REAL WHEY PROTEIN
Each bottle of NITRO-TECH® is fully disclosed, to guarantee you are getting the exact amount of real protein displayed the label – each and every scoop contains the full amount of protein stated on the label and is 100% real protein!*
MuscleTech® researchers invested countless hours working to create a protein formula that packs on more muscle and builds more strength than regular whey protein. With the powerful NITRO-TECH® formula, they succeeded, and now bodybuilders and other athletes have an advanced whey protein supplement that actually delivers superior musclebuilding results!*
SUPERIOR RECOVERY AND MUSCLE BUILDING*
MuscleTech® researchers reviewed numerous clinical trials on whey peptides, and the science shows that whey peptides can promote rapid recovery from exercise and even support an insulinogenic response for improved nutrient delivery.*
NITRO-TECH® contains a research-proven 3g dose of creatine monohydrate, which – combined with whey protein – helps to build more strength than regular whey protein. In a breakthrough study, subjects using the core ingredient combination in NITRO-TECH increased their 1-rep max bench press by 34 lbs., compared to only 14 lbs. for subjects using regular whey protein.*
Regular whey protein is good, but the core ingredients in NITRO-TECH are shown to be superior to regular whey protein. In the same 6-week study, subjects using the core ingredients in NITRO-TECH® gained more lean muscle than subjects using regular whey protein (8.8 vs. 5.1 lbs.) and gained 2 times the strength on the bench press than subjects using regular whey protein (34 vs. 14 lbs.).*
**These statements have not been evaluated by the Therapeutic Goods Administration. This product is not intended to diagnose, treat, cure or prevent any disease. Please consult a qualified professional before undertaking any health, fitness or dietary program.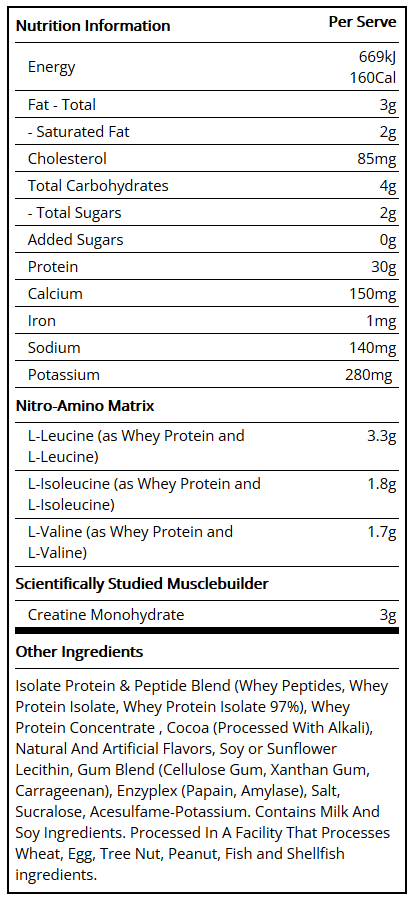 Other Ingredients:
Isolate Protein & Peptide Blend (Whey Peptides, Whey Protein Isolate, Whey Protein Isolate 97%), Whey Protein Concentrate , Cocoa (Processed With Alkali), Natural And Artificial Flavors, Soy or Sunflower Lecithin, Gum Blend (Cellulose Gum, Xanthan Gum, Carrageenan), Enzyplex (Papain, Amylase), Salt, Sucralose, Acesulfame-Potassium. Contains Milk And Soy Ingredients. Processed In A Facility That Processes Wheat, Egg, Tree Nut, Peanut, Fish and Shellfish ingredients.
Directions for Use:
Mix 1 level scoop (45.6g) in 180mL of cold water in a glass or shaker cup. Drink 8 to 10 glasses of water daily. Read the entire label before use and follow directions provided.
Additional information
| | |
| --- | --- |
| Flavour | Triple Chocolate, Vanilla Cream |