MUSCLETECH PLATINUM MULTI VITAMIN (90 Tablets)
$39.95
Description
Muscletech Platinum Multi Vitamin
Muscletech Platinum Multi Vitamin is a scientifically designed daily multivitamin. Platinum Multivitamin is a complete advanced multivitamin complex designed for bodybuilders, active individuals and even elite athletes for general health support. This scientifically designed formula delivers a complete micronutrient profile that hard-training athletes are looking for. It's packed with ingredients including essential vitamins, minerals and even an Amino Support Matrix plus an Herbal Matrix.
High Potency Vitamins & Minerals 
Each serving delivers 18 vitamins and minerals, including 100% or more of your daily requirements for vitamins A, C, E, B6 and B12! It's packed with ingredients including essential vitamins and minerals, and even an Amino Support Matrix plus an Herbal Matrix that make this a truly complete formula!
BANNED SUBSTANCE FREE
This advanced formula supplies key amino acids, alpha lipoic acid (ALA), arginine and citrulline, while also providing an Herbal Matrix formulated with green tea, saw palmetto, ginseng, echinacea, ginkgo and green coffee bean.
TESTED FOR QUALITY AND PURITY
Also included are key enzymes and other micronutrients that provide additional support, like boron, inositol and choline! With a full profile of support ingredients, Platinum Multivitamin is the complete formula designed to deliver micronutrients.
The complete 30-day supply of this advanced multi-vitamin formula also delivers 865mg of amino support, and is perfect for stacking with other MuscleTech Essential Series products.
**These statements have not been evaluated by the Therapeutic Goods Administration. This product is not intended to diagnose, treat, cure or prevent any disease. Please consult a qualified professional before undertaking any health, fitness or dietary program.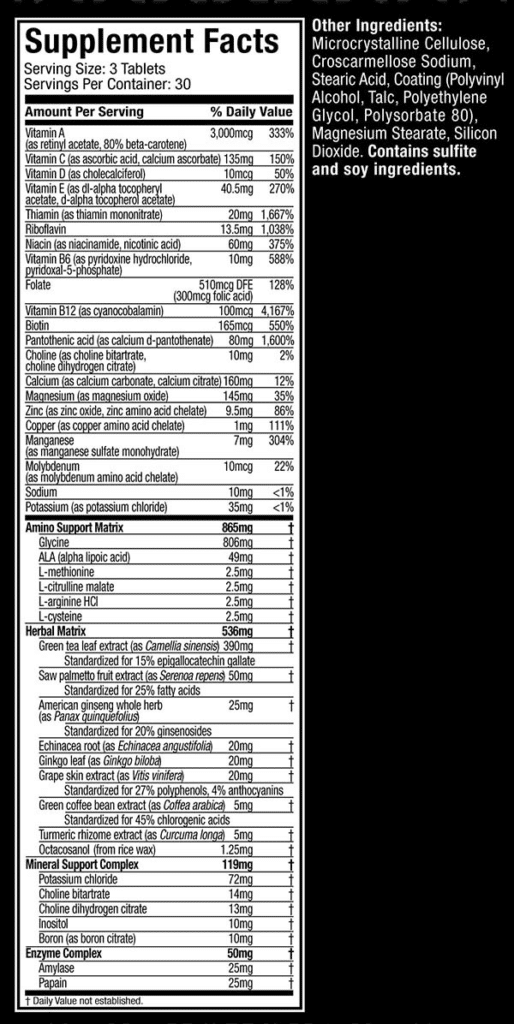 Directions: Take 1 serving (3 caplets) with a glass of water daily. Read the entire label before use and follow directions provided.
Warnings: Not intended for use by persons under 18. Do not use if pregnant or nursing. May cause flushing and itching. Women of childbearing age should limit daily vitamin A intake to 10,000 IU (excludes beta-carotene). Do not take while fasting. Do not use if you have had a myocardial infarction (heart attack). Consult a medical doctor before starting a diet or exercise program. KEEP OUT OF REACH OF CHILDREN.