Sale!
ONEST HEALTH AMINOLOAD (465g)
Description
Onest Health Aminoload
Onest Health Aminoload contains all 9 Essential Amino Acids, including 6g of BCAAs and 3g of EAAs, to maximize protein synthesis and create an anabolic environment for muscle growth! While other products may contain only BCAAs, studies have shown that all 9 of the Essential Amino Acids found in AMINOLOAD are necessary for optimal muscle repair and growth.
We added L-Taurine to promote increased cell volume for muscle fullness and increased strength.
Take Onest Health AMINOLOAD before, during, or after your workout to kickstart your muscle growth and recovery!
SUPPORTS MUSCLE GROWTH & ENHANCES STRENGTH
The effort you put in the gym is only part of the equation when it comes to transforming our physique. Diet, rest, AND supplementation have a huge impact on the results we see in the mirror!
When it comes to building muscle, protein synthesis is king. Amino Acids have an anabolic effect and increase the rate of protein synthesis to fuel muscle growth and strength gains.
**These statements have not been evaluated by the Therapeutic Goods Administration. This product is not intended to diagnose, treat, cure or prevent any disease. Please consult a qualified professional before undertaking any health, fitness or dietary program.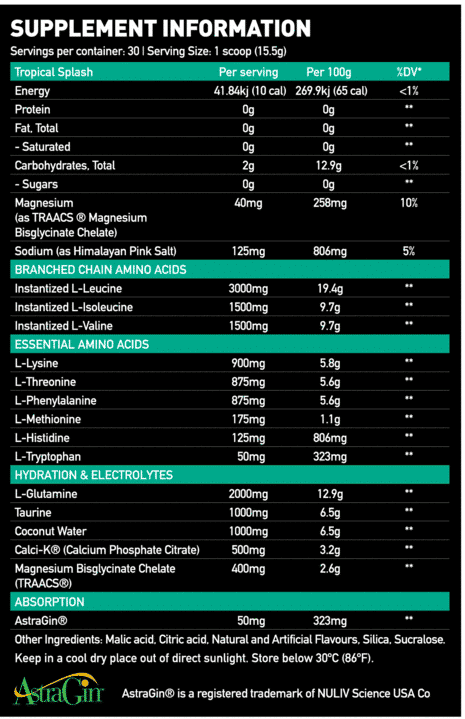 Directions:
Mix 1 level scoop with 12-16 oz. of cold water or any beverage of your choice before, during, or after your workout.
For best results consume at least 2 servings per day.
Additional information
| | |
| --- | --- |
| Flavour | Candy Apple, Coconut Cre'me, Tropical Splash |