ATP Science Amperage (75ml)
$54.95
Description
ATP Science Amperage
ATP Science Amperage is an innovative pre-workout designed for the clean-living athlete– it's a plant-based oil, which contains a unique and energising blend of various types of fatty acids, plus essential oils. Amperage is for you if you're looking for a stimulant-free pre-workout, that contains no artificial ingredients and harnesses the strength from nature to give you that boost you need for a great session. Feel great and go further with the power of plant oils, with Amperage.
Amperage is made with only vegan-friendly oils: safflower, coconut, pomegranate seed, peppermint leaf and grapefruit peel. This enlivening blend of oils can help you whether you need extra help to get the most out of your workout, during periods of caloric restriction or even to keep your mental focus sharp. ATP Science pride themselves on their knowledge and this is showcased in the creation of such a distinctive oil, with a refreshing minty taste that you'll love. Make it part of your daily routine and get the best results when you stack it with your other ATP Science favourites!
Are you tired of pre-workouts that are full of stims, artificial sweeteners and dubious chemicals? With Amperage you can get the most out of your performance using only natural ingredients. The combination of non-essential, essential and conditionally essential oils will help you on all fronts: general health and wellbeing, healthy weight management and helping you reach your overall body composition goals. You can enjoy this oil before exercise or any time you feel cravings!
When you have Amperage, you may:
Support energy production when you need to perform at your best
Aid calorie processing when looking to achieve your body goals
Support mental focus during the day
Have help to achieve your body composition goals
How to use Amperage? Simply take the dropper and place 2ml on the tongue. Another option is to include it in your healthy shakes, keto coffee, in salads as part of your dressing or in your raw treats! When you take Amperage by ATP Science with your tailored exercise and diet program, you'll have the best way to help achieve the fitness goals you desire.
Each serve of ATP Science Amperage Science Contains:
16.2 calories
<1g of protein
1.8g of fat
0.54g of saturated fat
0.18g of monosaturated fat
1.08g of polyunsaturated fat
<1g of carbohydrate
Omega oils 3, 5, 6, 7 and 9
Only plant-based omegas
**These statements have not been evaluated by the Therapeutic Goods Administration. This product is not intended to diagnose, treat, cure or prevent any disease. Please consult a qualified professional before undertaking any health, fitness or dietary program.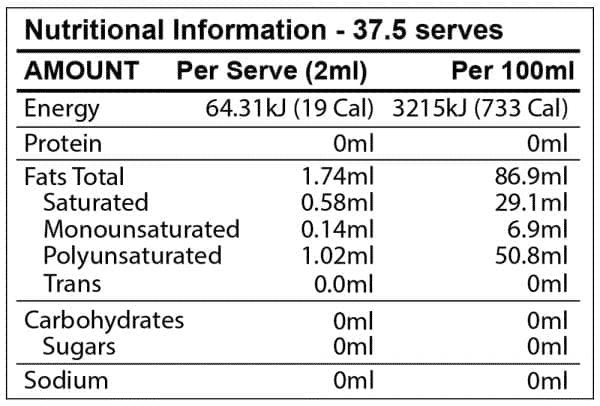 AMPERAGE is 100% Active Ingredients:
Safflower oil (high linoleic variety yielding conjugated linoleic acid (CLA) oleic acid, palmitic acid, stearic acid), Punica granatum (Pomegranate) seed oil (conjugated linoleic acid (CLnA) punicic acid, linoleic acid, oleic acid, palmitic acid, stearic acid), Cocos nucifera (coconut) oil (capric acid, caprylic acid, caproic acid), Peppermint cold-pressed oil, Grapefruit peel oi
Serving Suggestions:
Fasted cardio – drink 2ml pre-workout on an empty stomach, may use again intra-workout.
Keto / low carb / high fat /high protein diets – drink 2ml pre-workout, may use again throughout the day between meals if desired.
Pre-workout – drink 2ml pre-workout, may use again intra-workout
Pre-meal – drink 2 ml immediately before meal or add to salad dressing / vin