ATP Science Noway Hot Chocolate (500g) Collagen Protein
$58.95
Description
ATP Science Noway Hot Chocolate
ATP Science Noway Hot Chocolate, a decadent, rich Belgian hot chocolate experience with the infamous Noway collagen protein to nourish your mind and body. More of a well being hot beverage or icy frappe, Noway Hot Chocolate has magnesium and collagen peptides for rest, repair and recovery. Only 1.5 g of sugar per serving, the answer to your night-time sweet cravings has been found.
Here are just some of the amazing benefits of incorporating Collagen into your daily routine:
Stimulates and improves skin elasticity.
Boosts collagen production.
Reduces the effects of aging skin by stimulating skin hydration and elasticity.
Promotes and Supports lean body mass
Supports and Promotes muscle strength
Combining Collagen and Magnesium for the ultimate bedtime drink to chill out after a long day is a huge WIN WIN!
Enjoy your drinking chocolate like you enjoy your lover – sweet, rich and hot…or as cold as ice (think frappē).
**These statements have not been evaluated by the Therapeutic Goods Administration. This product is not intended to diagnose, treat, cure or prevent any disease. Please consult a qualified professional before undertaking any health, fitness or dietary program.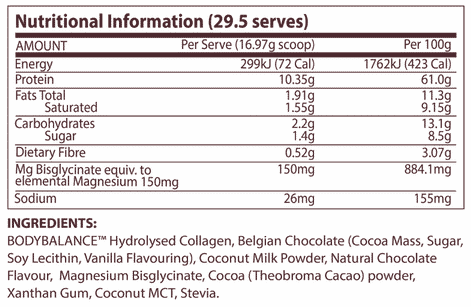 Directions
Quick Directions:  Add 1-2 flat scoops (approximately 17g) into a mug and pour 250ml of hot water over, stir well, and enjoy!
Indulgent Directions: for lovers of froth … In a small saucepan heat 1 cup of desired milk and 1-2 heaped scoops of hot chocolate, stir well to combine. Use a milk frother or blender to make extra frothy and creamy. Pour into a mug and sprinkle with extra NOWAY® HOT CHOC mix. Add mini marshmallows,.