EHP LABS BEYOND BCAA-EAA (438g)
$54.95
Description
Ehp Labs Beyond BCAA-EAA
Ehp Labs Beyond BCAA-EAA is the most potent scientifically formulated product to boost performance and recovery with the inclusion of EAA'S, SENACTIV® Recovery Booster and a Super Focus Blend.
We created BEYOND for EVERYONE that is looking to elevate their recovery, hydration and performance. So you can train harder today, and go BEYOND tomorrow.
RECOVERY | REDUCED SORENESS
10g Essential Amino Acids, including 8g BCAAs Combination of BCAAs and EAAs can assist with fuelling muscles during exercise, reducing muscle breakdown and supporting intense workouts!
PERFORMANCE | MUSCLE PRESERVATION
50mg of patented SENACTIV® recovery booster is scientifically validated to promote energy and muscle preservation.
SENACTIV® is a science backed recovery booster ingredient for support of energy production while preserving muscle cells and helping your body to regenerate new cells.
SUPER FOCUS BLEND
1,500mg Tyrosine and Huperzine-A super focus blend for improved stress response, dialed-in focus and mood enhancement to smash out every gym session.
Train Harder. Recover Faster. Get Results.
Go above and BEYOND!
**These statements have not been evaluated by the Therapeutic Goods Administration. This product is not intended to diagnose, treat, cure or prevent any disease. Please consult a qualified professional before undertaking any health, fitness or dietary program.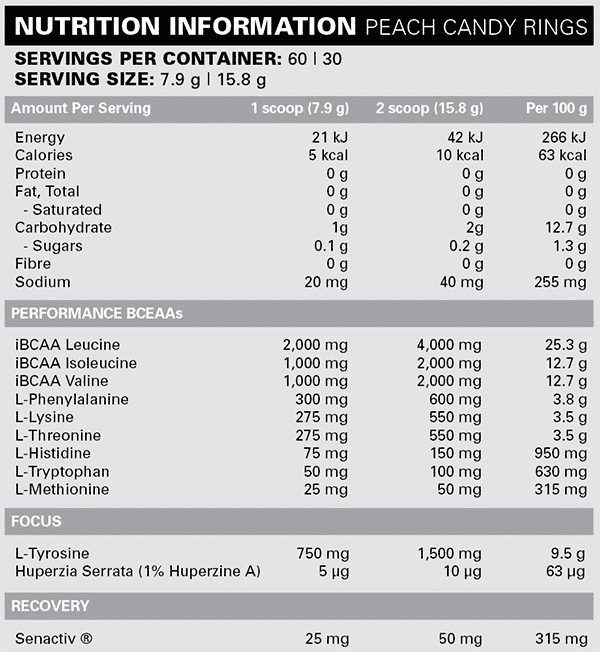 Directions:
Mix 1 scoop of Beyond with 10oz of cold water and consume during exercise, For intense exercise, mix 2 scoops with 20oz of cold water. Consume during day time for active recovery, muscle protein synthesis and to help with reduction of delayed onset muscle soreness.
Additional information
| | |
| --- | --- |
| Flavour | Dragon Fruit, Mandarin Twist, Peach Candy Rings, Raspberry Refresh, Kiwi Strawberry |