FACTION LABS DISORDER BULGE (440g)
$58.95
Description
Faction Labs Disorder Bulge
There's a new pre-workout in town and this one's looking to make a BIG difference! Faction Labs Disorder Bulge is here to give you all the assistance you need while you're trying to kill your next big PR, all without the stimulants. This potent vasodilator promises superior nutrient transport and nitric oxide production. Featuring a one or two scoop ingredient panel, BULGE contains a host of scientifically validated ingredients to help you achieve in the gym without feeling wired or restless come bed time. A blend of vasodilators, creatine for strength and added focus from Tyrosine to top it off.
When using Bulge we recommend taking the two scoop path to really maximise your endurance and pumps during your session.
Minimising fatigue.
Maximising vasodilation and nutrient delivery.
Increased focus and concentration.
Bigger lifts.
Added creatine to promote explosiveness and power.
Can be added to your DISORDER pre-workout for a fully loaded pre!
Why not take a break from your current pre-workout that's been blowing your sleep out of whack or stack BULGE with Disorder to really double down on the effects from these potent pre-workouts! Perfect if you are training in the evenings, looking for a stim break or wanting to jazz up your current pre-workout Faction Labs Disorder Bulge is one big package you need to get your hands on!
**These statements have not been evaluated by the Therapeutic Goods Administration. This product is not intended to diagnose, treat, cure or prevent any disease. Please consult a qualified professional before undertaking any health, fitness or dietary program.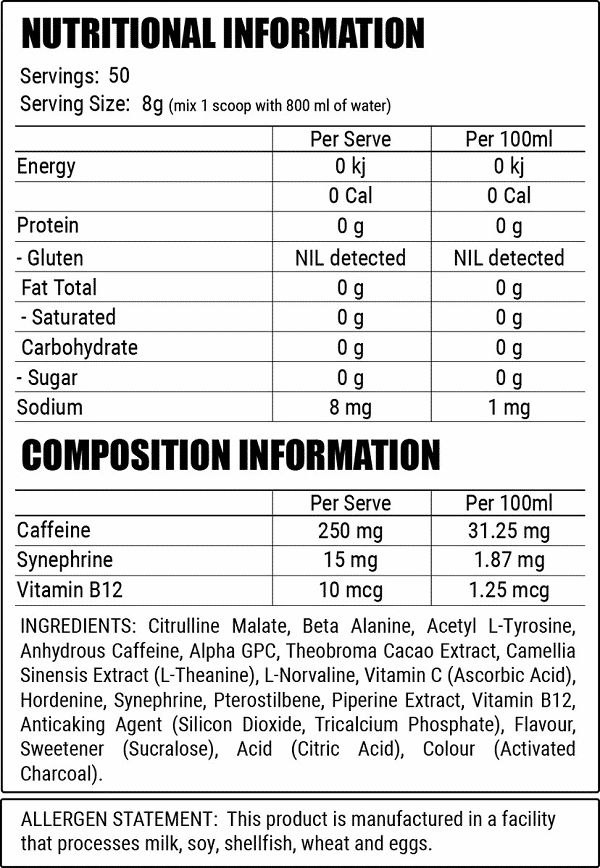 Directions:
Mix 1-2 scoops of Disorder with 200-400ml of cold water and consume 30 minutes BEFORE training.
*Always start on a low dosage to assess tolerance (MORE does not = Faster Results!)
* DO NOT consume more than 2 scoops in a 24hr period.

Additional information
| | |
| --- | --- |
| Flavour | Plain Jane, Red Russian |