MUSCLETECH NITRO TECH 100% WHEY GOLD (4.54kg)
$179.95
Description
Muscletech Nitro Tech 100% Whey Gold
Introducing Muscletech Nitro Tech 100% Whey Gold – a pure protein formula featuring whey peptides and isolate! For over 20 years, NITRO-TECH® has been a leading protein brand. Built on a foundation of human research and cutting-edge science, it has earned the trust of countless consumers worldwide. Now the same research and development team has pioneered a new formula based on superior protein sources, quality and manufacturing.
Superior Science. Superior Results.
MuscleTech® researchers reviewed numerous clinical trials on whey peptides, and the science shows that whey peptides can promote rapid recovery from exercise and even support an insulinogenic response for improved nutrient delivery. This means you are getting an ultra-pure, rapidly absorbed and quickly digested protein that allows you to recover faster, build more lean muscle mass and get better results from your training sessions! What's more, whey peptides have one of the highest biological values (BV) of any protein source, a value given to protein sources to measure how well they are absorbed and used by the body.
Full Spectrum Array of Amino Acids
• Rapid-absorbing hydrolyzed whey peptides to support an insulinogenic response and improved nutrient delivery
• Features the most premium whey isolates and concentrate for a superior amino acid profile
• 5.5g of anabolic BCAAs and a class-leading 4g of glutamine and precursor for better muscle protein synthesis and recovery­
• Superior cold microfiltration process yields a high biological value undenatured whey protein
• Award-winning flavor and a taste you'll love
Multi-Phase Filtration Technology
Unlike the other guys, we don't use heat, harsh acids or salt! We only use a superior, cold microfiltration process to remove more fat, carbs and lactose, leaving only high-quality protein to help you increase strength and build more lean muscle.
Our whey protein has been filtered using Multi-Phase Filtration Technology for less fat, lactose and impurities than cheaper protein sources. Furthermore, NITRO-TECH® 100% WHEY GOLD is manufactured according to GMP standards, as is required for all dietary supplements to ensure quality and integrity.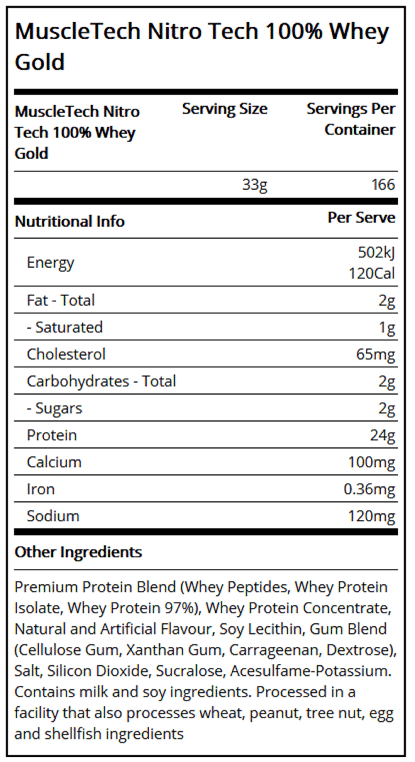 Directions: Shake container before use. Mix 1 scoop with 6 oz. of cold water or skim milk in a glass or shaker cup. Use between major meals and before and after exercise. Read the entire label before use and follow directions provided.
Warnings: Contains Milk and Soy ingredients. Processed in a facility that also processes Wheat, Peanut, Tree Nut, Egg and Shellfish ingredients. Do not use if pregnant or nursing. Consult a medical doctor if you have a medical condition or before starting a diet or exercise program. Do not use if packaging has been tampered with. Store in a cool, dry place. Use this product as a food supplement only. Do not use for weight reduction. These statements have not been evaluated by the Food and Drug Administration. This product is not intended to diagnose, treat, cure or prevent any disease.
Additional information
| | |
| --- | --- |
| Flavour | Double Rich Chocolate, French Vanilla Crem'e |