RULE 1 R1 CASEIN (1.8kg)
$104.95
Description
Rule 1 R1 Casein
Rule 1 R1 Casein is a caseinate protein powder based solely on Micellar Casein. Micellar casein varies from calcium caseinate, sodium caseinate and other forms of caseinate, in that it doesn't have other minerals added to it to reduce its acidity. The Micellar form of Casein is easier to absorb and digest as it has undergone less processing due to it being cold filtered. Other forms of Casein are typically treated with acid or heat to add a mineral form to it, and thus reducing its absorption. The Micellar form of casein has had the lactose, fat and other byproducts of dairy removed from the end product reducing intolerances to this form of protein powder. As with any casein-based protein the Rule 1 R1 Casein is made as a slow digestive and slow absorbing protein powder suggested to be taken typically at nighttime.
What's in Rule 1 R1 Casein
Rule 1 R1 Casein is a very simple and pure product consisting of only micellar casein with some flavours, sweeteners, emulsifiers and thickeners added. Whilst caseinate based protein powders are typically thick to drink Rule 1 have added some guar gum, xanthan gum and carrageenan to increase the thickness and mouth feel of this protein powder to give it very much a milkshake style consistency.
Even in our fast-paced world, there are times when it pays to slow down. Take between meals and bedtime for example. During these occasions you want a protein that takes its time. Something to hold you over until your next meal. A protein that breaks down more slowly, delivering its amino acids over several hours. R1 Casein is what you're after.
The R1 Casein should predominantly be used as a nighttime protein. Some people suggest that you can use a casein-based protein between meals however, we feel that you're better off using a whey protein isolate, whey protein concentrate blend at these times of the day. Whey protein and whey isolate, whey concentrate blend absorb significantly quicker than a caseinate based protein powder allowing the protein to be fully absorbed and digested before your next meal. Caseinate proteins like the Rule 1 R1 Casein can take up to 8 hours to digest and absorb.
ZERO Non-Casein Proteins
ZERO Creamers
ZERO Spiking
ZERO Fillers
Slow-Release Micellar Casein Formula
25 g slow-release protein*
Premium micellar casein
Amino acid delivery for up to 8 hours.
Thick satisfying texture.
Naturally-rich in all essential amino acids (EAAs) u
Carefully blended and packaged in an NSF GMP facility in the USA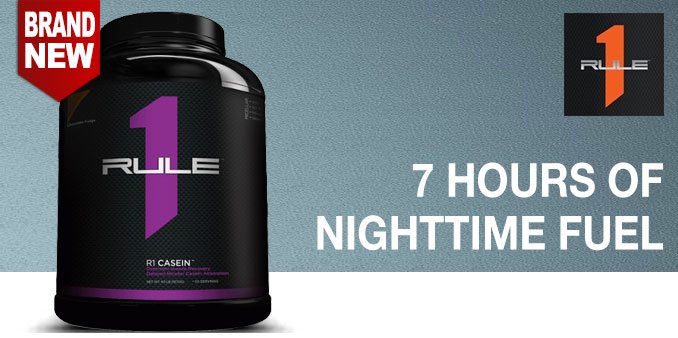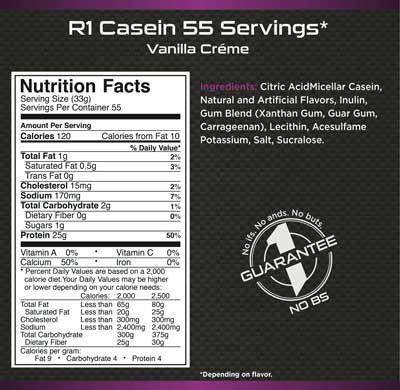 Directions: The R1 Casein should predominantly be used as a nighttime protein. Some people suggest that you can use a casein-based protein between meals
Additional information
| | |
| --- | --- |
| Flavour | Chocolate Fudge, Strawberry, Vanilla |