Optimum Nutrition Essential Amino Energy (585g)
$68.95
Description
Optimum Nutrition Essential Amino Energy
Optimum Nutrition Essential Amino Energy is a flavoured powder containing naturally-sourced caffeine, Green Tea, Green Coffee and amino acids. Essential Amino Energy may be taken as a pre-workout, intra-workout or to support energy levels and recovery throughout the day.
Supports Nitric Oxide Synthesis with Natural Energizers & Antioxidants!
* Free Form Amino Acids for Rapid Uptake
* Essential Amino Acids including BCAAs
* Supports Recovery Before, During & After Exercise
* Train Longer & Harder with beta-Alanine
* Natural Energizers & Antioxidant Support
* Supports Nitric Oxide Synthesis
* 0nly 10 Calories and 0 Grams of Sugar per Serving
* Mixes Easily
Amino Energy By Optimum Nutrition Contains a blend of Ingredients shown to help recovery, build lean muscle and promote great energy during your workout while improving maximise strength and powder.
Essential Amino Acids Help Rebuild Muscle
Beta-Alanine Promotes Longer & Stronger Workouts
**These statements have not been evaluated by the Therapeutic Goods Administration. This product is not intended to diagnose, treat, cure or prevent any disease. Please consult a qualified professional before undertaking any health, fitness or dietary program.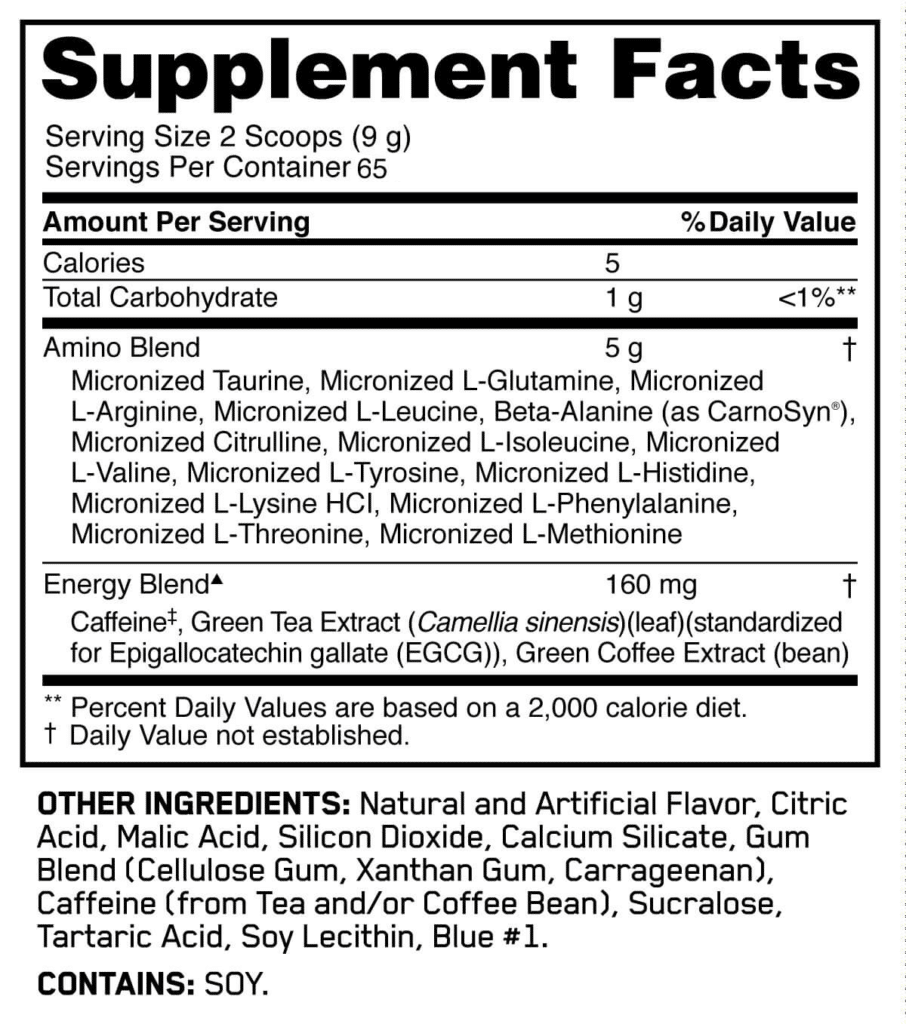 Directions: Mix two scoops of Optimum Nutrition Essential Amino Energy in 300ml of cold water.
FOR AN AMINO ACID BOOST: Consume one or more servings first thing in the morning and/or between meals. FOR PRE-WORKOUT ENERGY: Take 1-3 servings 20-30 minutes before training.
FOR POST-WORKOUT RECOVERY: Take 1-2 servings immediately after training.
Additional information
| | |
| --- | --- |
| Flavour | Blue Raspberry, Concord Grape, Fruit Fusion, Green Apple, Orange, Watermelon |