Rivalus Clean Gainer (5.4kg)
$128.95
Description
Rivalus Clean Gainer
Rivalus Clean Gainer is the ultimate combination of protein, carbohydrates and healthy fats designed to provide a complete nutritional spectrum in a supplement to support a healthy diet.
Clean Gainer by Rivalus is nano-partitioned, a process where the product is both chilled and micro-filtered, preserving the macro nutrient profile and yielding exceptionally high bioactive protein fractions. The micro-filtration allows only the smallest particles to pass through the ultra-fine filtration screen. This leads to a protein that mixes instantly without issues involving clumping or sticking to the inside of the shaker cup.
To pack on serious size, you need to consume more energy than you burn. A number of variables need to be factored in, but 3,500 calories per pound of added body weight is a commonly referenced estimate. True hard gainers may need even more. In a world of fast food, finding extra calories isn't hard. Getting quality, protein-rich calories to back-up your gym time? Now that's a different story.
With a killer combo of full-spectrum proteins, eight energizing carb sources, and essential fats, Rivalus Clean Gainer™ is high-octane nutrition (over 560 calories worth) that fuels the intense needs of world-class athletes as well as those who aspire to be. Factor in the no banned substances and it's a MASSIVE winner.
AT A GLANCE*
560 calories.
30 g dairy protein blend.
90 g eight-source complex carb blend.
Just 8 g of sugar.
Essential fats from flax, avocado, and sunflower.
Instantized to mix up quickly, fully, and easily.
No banned substances – safe for sport.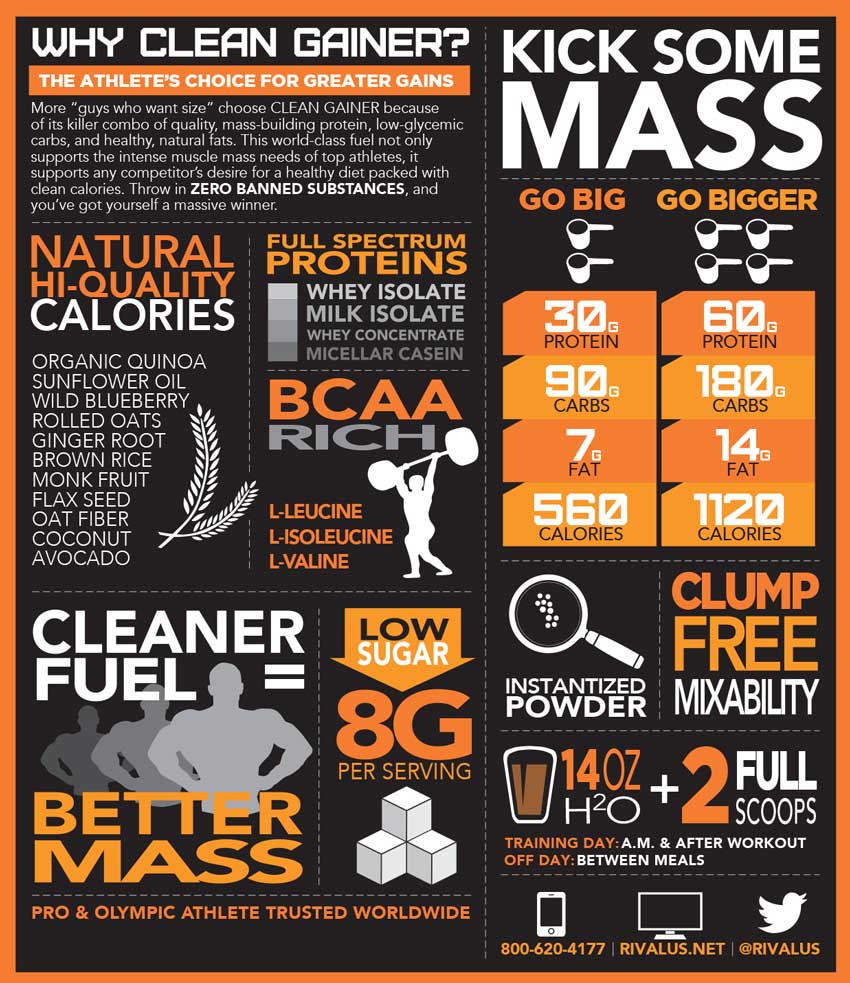 Directions:
Mix 2 heaping scoops with 14-16 fl. Oz of cold water 2 times per day. For best results use Clean Gainer everyday.
Additional information
| | |
| --- | --- |
| Flavour | Chocolate Fudge, Chocolate Peanut Butter, Creamy Vanilla |