SOLARAY ONCE DAILY HIGH ENERGY MULTI-VITAMIN (90 vcaps)
$49.95
Description
Solaray Once Daily High Energy Multi-Vitamin
Solaray Once Daily High Energy Multi-Vitamin is formulated using a two-stage, timed-release technology. The two-stage ingredients are designed to release half of the ingredients rapidly and the other half gradually over a longer period of time. The two-stage ingredients include Vitamin C, Thiamine, Riboflavin, Niacinamide and Vitamin B-6.
**These statements have not been evaluated by the Therapeutic Goods Administration. This product is not intended to diagnose, treat, cure or prevent any disease. Please consult a qualified professional before undertaking any health, fitness or dietary program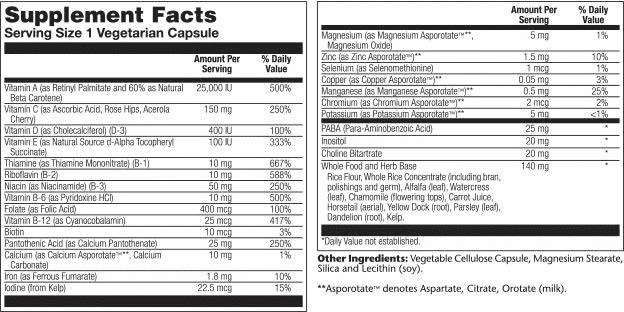 Directions:
Use only as directed. Take one VegCap daily with a meal or glass of water. Store in a cool, dry place.
Manufacturer's Disclaimer:
Do not use if safety seal is broken or missing. Keep out of reach of children. Keep your licensed health care practitioner informed when using this product. Do not use if you are pregnant or nursing.