Universal Animal Pak Powder (388g)
$99.95
Description
Universal Animal Pak Powder
Universal Animal Pak Powder is for hard-core bodybuilders and strength athletes, nothing beats Animal Pak for maximizing gains in muscle mass, strength and performance. There is no better nutritional weapon available to fuel intense workouts. Spawning many imitators, the original Animal Pak is still loaded with the most advanced, highest quality bodybuilding nutrients.
The #1 selling training pak in the world for seventeen years straight. Since 1984, more competitive bodybuilders have cut their teeth on the Animal Pak than any other bodybuilding supplement in history. Why? Simple. Animal Pak gets the job done. It works. First time. Last time. Every time.
Nature, in all her ingenuity, has designed the human body as the ultimate performance machine. Fact is, since the dawn of mankind, our bodies have changed very little. When it comes to feeding our muscles, we still need the nutrients we get from our diets. But when it comes to building muscle in a freakish way, we need the right combination and mega-doses of essential amino acids, carbs, vitamins, minerals and essential fatty acids (EFAs). Only Animal Pak has what you need. You're the kind of primal beast who trains with Animal intensity. You need plenty of the above, plus that little something extra only Animal Pak provides. That's why we've also loaded the Animal Pak with performance optimizers such as PAK, IGF colostrum, nucleotides, lipotropics, L-arginine, Protogen A, eleuthero, and the like.
Why should you care? The greater your training intensity, the faster and larger these gaps grow over time. When this happens you eventually hit a plateau. You stop growing. Maybe you've already hit this wall. To make matters worse, if you take other supplements, these same gaps begin to render those expensive supplements useless. Many of today's supplements rely on enzymes and other substances in your body to "activate" them. Nutritional gaps mean these key activators may not function at all, so you may be wasting all of your hard-earned money on supplements that won't or can't work. Consider the Animal Pak as the cast iron skillet of your supplement program, your body's first line of defense. If you train with weights, then you absolutely need to train with the Animal Pak. Remember, while most supplements have come and gone, precious few have stood the test of time. When you're ready for the best, step up to the most trusted name in serious bodybuilding nutrition: Animal Pak.
Why can't I just use a regular one-a-day type multi-vitamin? You can, but do you want to? Typical one-a-day type multis are made for Joe Couchpotato. They have 100% of the RDA in many vitamins and minerals. Listen, do you take 100% of the Daily Reference Value for protein which is 50 grams? No. You take more because you're a serious lifter. Serious lifters need protein. The same applies to your multi. Only Animal Pak was designed for serious bodybuilders and powerlifters. Harder training athletes need more vitamins and minerals and other key nutrients than sedentary individuals. So if your multi is one or two pills or even three pills, then it's time to consider what you're doing.
Does Animal Pak contain any stimulants? No. Animal Pak Powder only contains only natural energy boosters that have been shown to work.
Is Animal Pak a multivitamin? Yes and no. One of it's component is a complete and comprehensive multivitamin that's true. In fact, as a multivitamin alone, nothing comes close to Animal Pak in terms of potency as explained above. That's why Animal Pak is the #1 selling training pack in the world. But Animal Pak isn't just a multi. It contains a range of essential and non-essential amino acids, digestive enzymes, electrolytes, antioxidants, lipotropics, and other nutrients to support lifters. Animal Pak is a complete "training" pack.
Don't I get enough vitamins from my foods? Yeah, we all wish. Truth is, a lot of veggies, due to overfarming and poor soil quality, aren't as loaded in nutrients as they used to be. Plus, it assumes, you're eating a wide range of foods, including lots of leafy green veggies, fruits and other whole foods. You also gotta remember that even the pros, who eat right for a living, take a multi. And don't forget, when it comes to dieting, you're pretty much eating the same foods, day in and day out. Eating chicken, rice, turkey and tuna isn't a great diet from a nutritional point of view. It can quickly lead to nutrititional deficiencies and gaps. So whether you're bulking or cutting, a multivitamin like Animal Pak Powder is absolutely essential if you want to stay on top of your game. Drink plenty of water.
Do I cycle the Pak? No. Because it has an important multivitamin component, you should take it every day.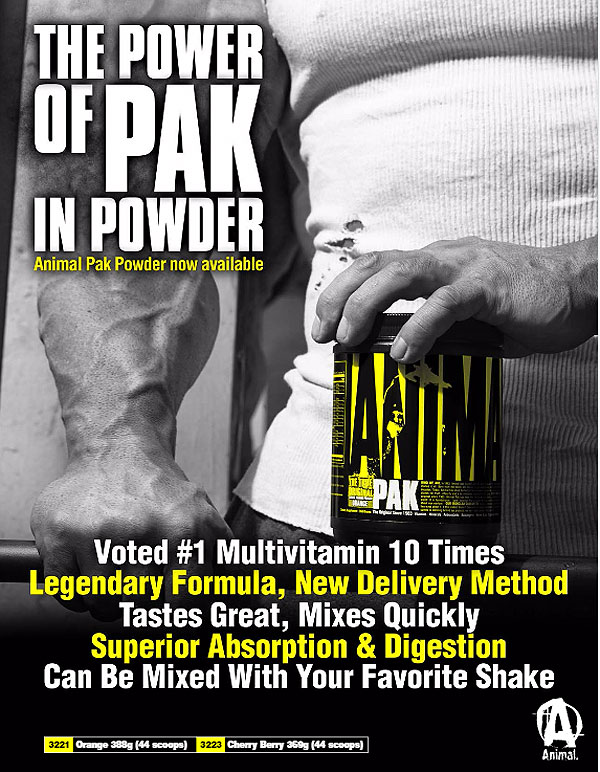 Serving Size: 2 Scoops
Servings Per Container: 22
Amount Per Serving
Calories 40
Total Carbohydrate 4 g < 2%
Dietary Fiber 2 g 8%
Protein 6 g 12%
Calcium 2 g 200%
Riboflavin 76 mg 4471%
Biotin 300 mcg 100%
Phosphorus 1330 mg 133%
Folic Acid 400 mcg 100%
Vitamin D (as Cholecalciferol) 680 IU 170%
Niacin (as Niacinamide) 82 mg 410%
Iodine (from Kelp) 150 mcg 100%
Selenium (as Sodium Selenate) 50 mcg 71%
Pantothenic Acid (as Calcium Pantothenate) 76 mg 760%
Magnesium (as Oxide) 400 mg 100%
Manganese (as Sulfate) 5 mg 250%
Zinc (as Oxide) 30 mg 200%
Thiamin (as Mononitrate) 76 mg 5067%
Copper (as Sulfate) 600 mcg 30%
Potassium (as Sulfate) 200 mg 6%
Vitamin C (as Ascorbic Acid & Ascorbyl Palmitate) 1 g 1667%
Vitamin B12 (Methylcobalamin and Cyanocobalamin) 11 mcg 185%
Chromium (as Chloride) 60 mcg 50%
Vitamin A (as Carotenoids [B-Carotene, a-Carotene], acetate) 9900 IU 198%
Anabolic Adaptogen Complex 300 IU 1000%
Vitamin B6 (as Pyridoxine AKG, Pyridoxine HCI) 180 mg 9000%
Performance Complex
Uni-Liver 4080mg
Carnitine 25mg
Choline 250mg
Eleuthero (root) 1750mg
Hawthorne (berry) 250mg
Inositol 125mg
Milk Thistle 500mg
Oriental Ginseng (root) 250mg
Para-Aminobenzoic Acid 400mg
Pyridoxine a-Ketoglutarate 200mg
Antioxidant Complex
Alpha Lipoic Acid (ALA) 100mg
Citrus Bioflavonoids 1000mg
Coenzyme Q10 (CoQ10) 5mg
Grapeseed Extract 50mg
Lutein 1mg
Lycopene 1mg
Pine Bark Extract 200mg
Digestive Enzyme Complex
Bromelain 100mg
Inulin 250mg
Lipase 10mg
Pancreatin 700mg
Papain 64mg
Pepsin 64mg
Anabolic Adaptogen Complex 1000mg
Muira Puama, Kudzu (Isoflavones), Safed Musli, Rhodiola Rosea (Rosavins)
Other Ingredients: Dicalcium Phosphate, Whey Protein Concentrate (Milk), Glucose Polymers, Microcrystalline Cellulose, Arginine (a-Ketoglutarate, Dessicated Argentine Liver (Bovine), Stearic Acid, Magnesium Stearate, Choline Bitartrate, Calcium Carbonate, Silicon Dioxide, D-Calcium Pantothenate, Lecithin (Soy), Carnitine Fumarate, Calcium Citrate, Alfalfa, Rose Hips, Rice Bran, Parsley, Burdock.
Additional information
| | |
| --- | --- |
| Flavour | Apple Jacked, Orange Crushed, Cherry Bomb, Fruit Punch |