WHITE WOLF VEGAN ESSENTIAL AMINOS (360g)
$64.95
Description
White Wolf Vegan Essential Aminos
White Wolf Vegan Essential Aminos has been designed to help you recover from your intense training sessions, used before, during or after exercise, White Wolf Vegan Essential Aminos may help spare muscle tissue breakdown (catabolism) and assist in supporting muscle growth and aiding recovery. Rapid Recovery contains all of the Branched Chain Amino Acids. The proven 2:1:1 ratio which enables the optimal amount of leucine to be available for protein metabolism as well as creating a muscle sparring effect.
Ingredients
L-Leucine: Is important for protein synthesis and many metabolic functions. Leucine contributes to the regulation of blood-sugar levels, growth and repair of muscle tissue and growth hormone production. Leucine also prevents the breakdown of muscle proteins (catabolism).
L-Isoleucine: Can assist in wound healing, regulating blood sugar and energy levels and also stimulating immune function.
L-Valine: Can help to reduce sleeplessness and improve cognitive function and also regulate the immune system.
Full BCAA + EAA Blend
Organic Mushroom Blend
High in Electrolytes
Non-GMO
Vegan Friendly
Plant Derived Ingredients
Stevia Sweetened
100% Natural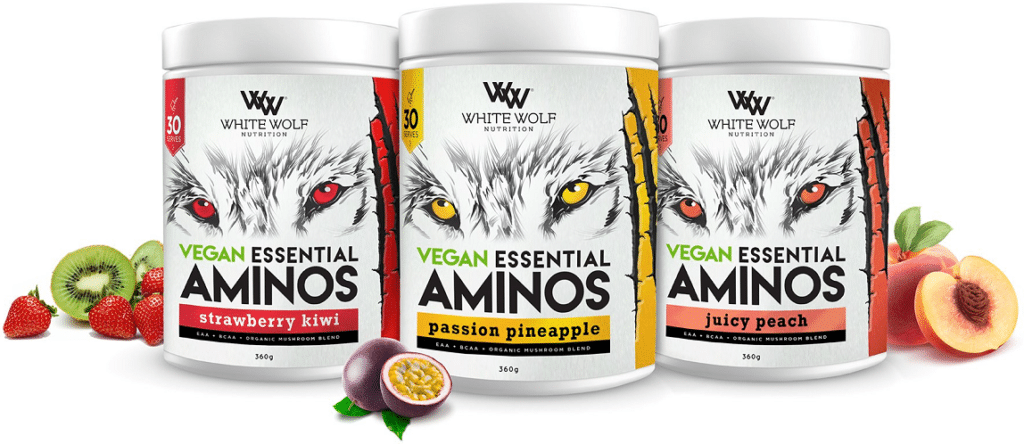 Strawberry Kiwi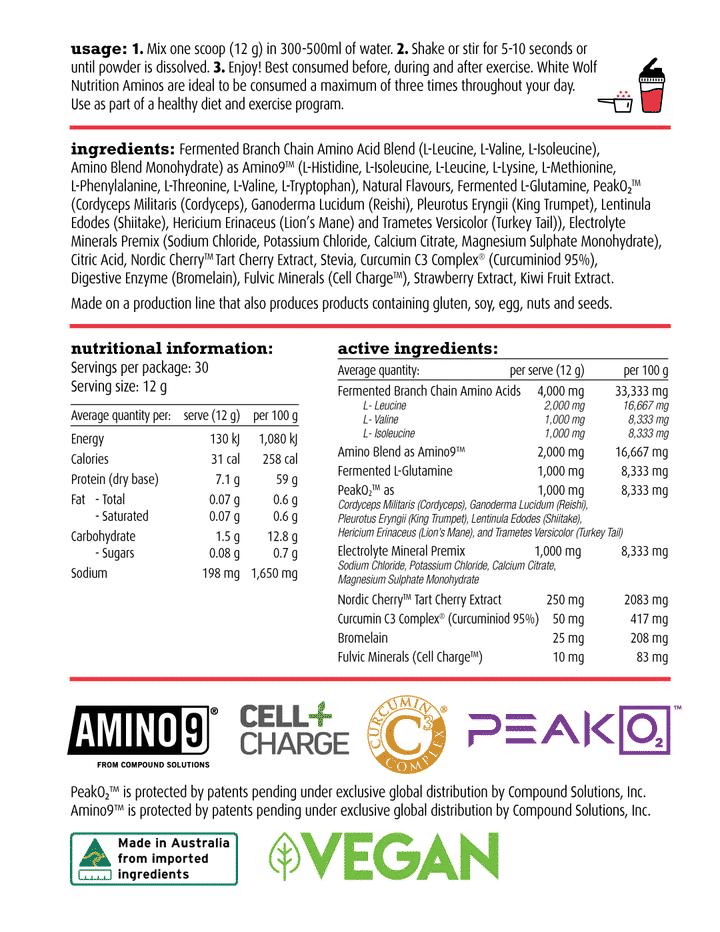 Juicy Peach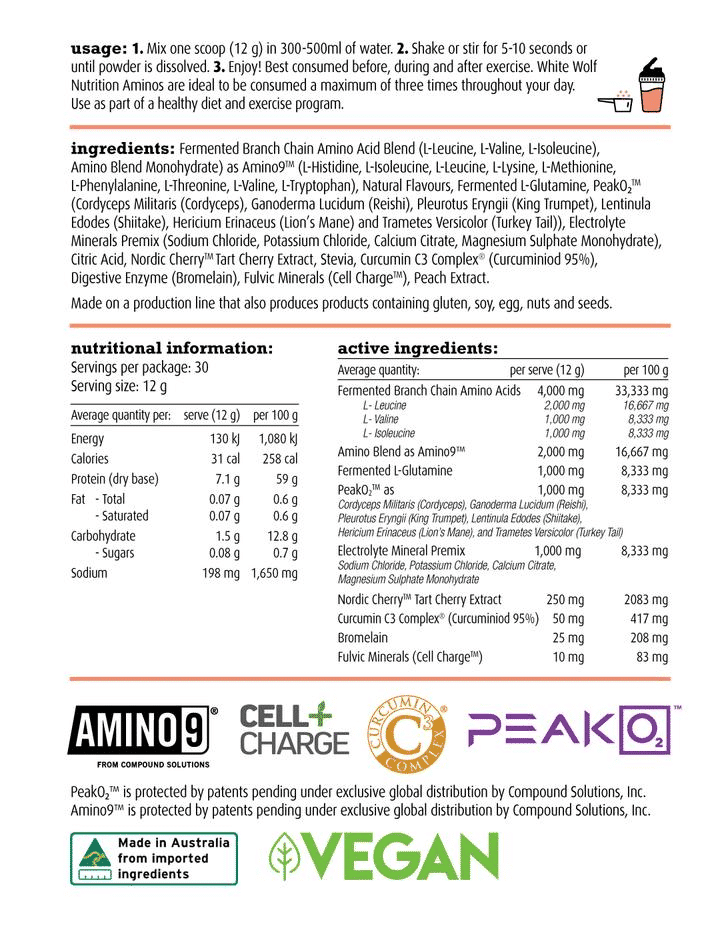 Passion Pineapple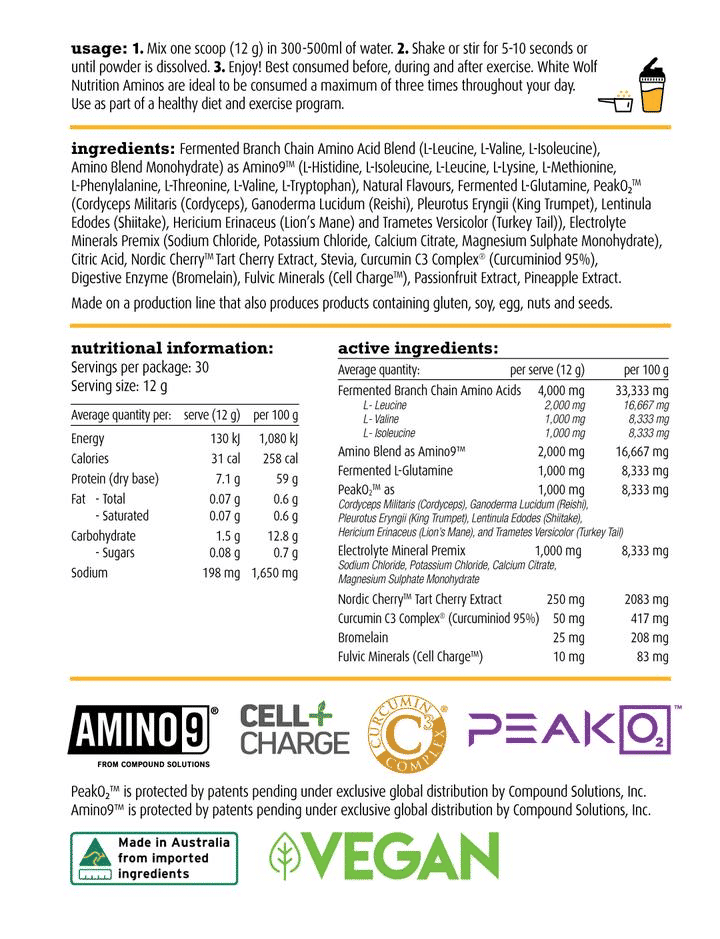 Ingredients
Fermented Branch Chain Amino Acid Blend (L-Leucine, L-Valine, L-Isoleucine), Amino Blend Monohydrate) as Amino9TM (L-Histidine, L-Isoleucine, L-Leucine, L-Lysine, L-Methionine, L-Phenylalanine, L-Threonine, L-Valine, L-Tryptophan), Natural Flavours, Fermented L-Glutamine, PeakO₂TM (Cordyceps Militaris (Cordyceps), Ganoderma Lucidum (Reishi), Pleurotus Eryngii (King Trumpet), Lentinula Edodes (Shiitake), Hericium Erinaceus (Lion's Mane) and Trametes Versicolor (Turkey Tail)), Electrolyte Minerals Premix (Sodium Chloride, Potassium Chloride, Calcium Citrate, Magnesium Sulphate Monohydrate), Citric Acid, Nordic CherryTM Tart Cherry Extract, Stevia, Curcumin C3 Complex® (Curcuminiod 95%), Digestive Enzyme (Bromelain), Fulvic Minerals (Cell ChargeTM), Strawberry Extract, Kiwi Fruit Extract.
Made in Australia from imported ingredients.
Made on a production line that also produces products containing gluten, soy, egg, nuts and seeds.
Directions:
1. Mix one scoop (12g) in 300-500ml of water. 2. Shake or stir for 5-10 seconds or until powder is dissolved. 3. Enjoy! Best consumed before, during and after exercise. White Wolf Nutrition Aminos are ideal to be consumed a maximum of three times throughout your day. Use as part of a healthy diet and exercise program.
Additional information
| | |
| --- | --- |
| Flavour | Juicy Peach, Passion Pineapple, Strawberry Kiwi |