ATP Science Beauty Collagen (150g)
$64.95
Description
ATP Science Beauty Collagen
With the creation of beauty comes the necessity of premium quality ingredients, ATP Science Beauty Collagen comes jam packed with goodness! Handpicked quality ingredients such as VERISOL™ plus glowing ingredients such as Astaxanthin, Hyaluronic Acid, and Acerola Cherry all work synergistically together to help create a healthy glowing complexion.
Collagen is one of the most abundant proteins within the body and our skin is made up of over 80% collagen, as we age the rate of collagen production declines leaving room for hair, skin, nails and even joints and ligaments to start deteriorating. It is important to note that no two Collagen Peptides are the same.  At ATP Science they use specific German-engineered Bovine Collagen Peptides, each targeted to specific functions in the body.  ATP Science Beauty Collagen is made up of Type I and Type III. This makes Beauty Collagen different to Noway as Noway contains a collagen peptide called BODYBALANCE®, which has different function in the body to VERISOL™.
Beauty Collagen with VERISOL™ collagen peptides specifically targets the skin to:
Improve skin hydration.
Improve skin elasticity.
Decrease the appearance of wrinkles or fine lines.
Boost natural collagen production.
Harness the natural power of collagen with VERISOL™.  When taken orally,  VERISOL™ may systematically affect collagen metabolism in the dermis rather than just reaching the outer layers of the skin like creams and other topical products.  Don't forget, we aren't just talking about the skin on your face, we are talking about skin on your whole body. Filled to the bring with Vitamin C, Antioxidants and VERISOL™ collagen makes Beauty Collagen your first port of call to help support glowing healthy skin!
**These statements have not been evaluated by the Therapeutic Goods Administration. This product is not intended to diagnose, treat, cure or prevent any disease. Please consult a qualified professional before undertaking any health, fitness or dietary program.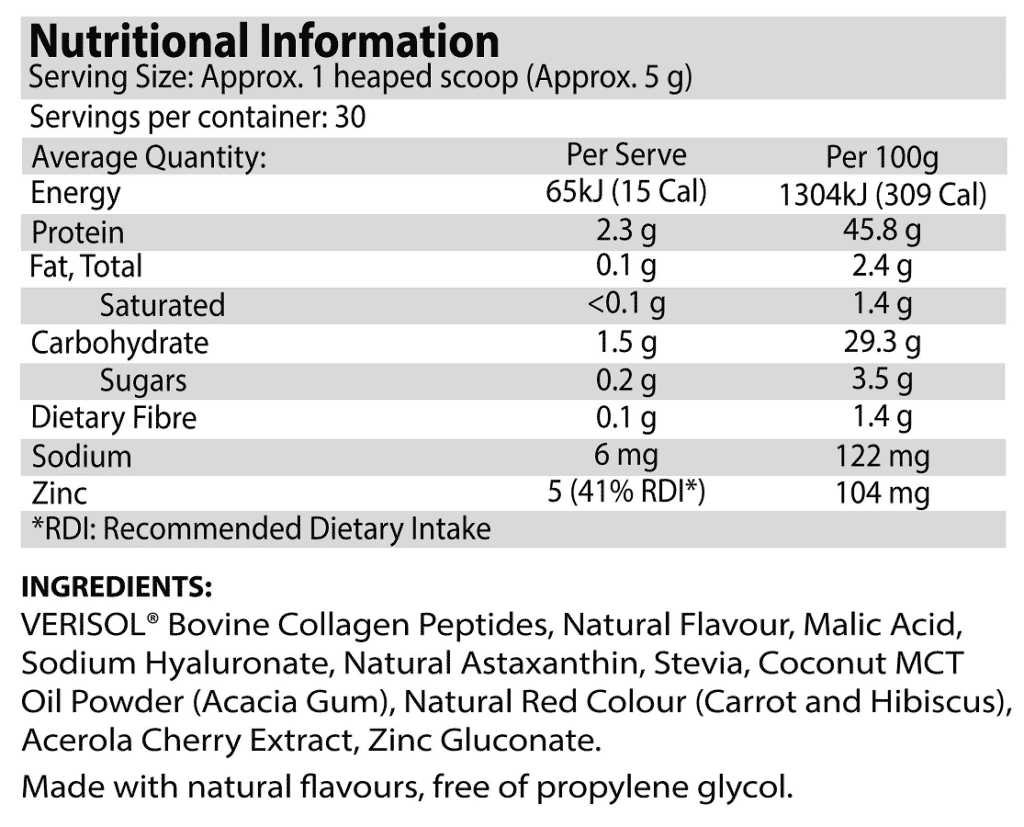 Directions:
Mix 1 heaped scoop of into 200mL of cold water, stir or shake it up or add it into your smoothie or juice.
For the sweet tooths: Mix 1 heaped scoop in with a smaller amount of water, 150-200mls of liquid, shake up or stir.
For the more 'mature' pallets: Mix 1 heaped scoop in with a greater amount of water, 350-600mL of liquid, shake up or stir.
Formulated supplementary sports food.  This food is not a sole source of nutrition and should be consumed in conjunction with a nutritious diet and appropriate physical training or exercise program.  Not suitable for children under 15 years of age or pregnant women.  Should only be used under medical or dietetic supervision.